Thu, Jul 06, 2017 at 12:14PM
---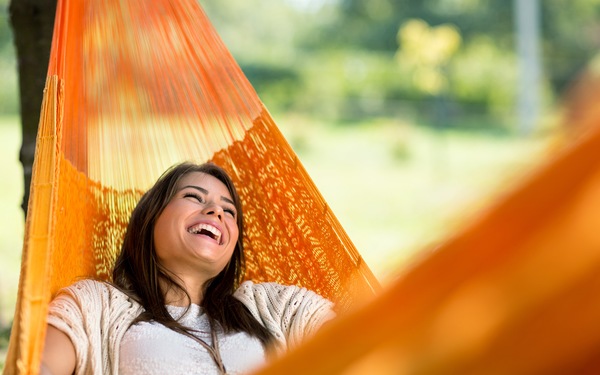 Nothing says "summer" quite like swaying in a gentle breeze, unwinding weightlessly on a stretchy hammock that lets you feel like floating.
There's something truly special about the hammock. Maybe it's that it reminds us of the spirit of vacation… or maybe it's the fact that the hammock's sole purpose is to help you relax! Either way, on July 22nd, we're celebrating National Hammock Day the best way we know how: by introducing this classic feature into our backyards, pool decks, and just about anywhere else we can.
Read on in today's blog for a few easy ways to incorporate this summertime staple into your own space!
Make it a focal point
Want to emphasize a sense of relaxation and casual, carefree fun in your outdoor space? One of the best ways to do it is to make your hammock a focal point of your backyard. Hang it up front and center, from the posts of your pergola or between two sturdy trees. It will become a treasured go-to spot by family and friends, young and old… maybe even Fido will join in on the fun!
Bring your hammock with you
Of course, you don't have to pick one sole spot for your hammock to rest. Lighter varieties can be packed into your backpack and brought along on hiking adventures or trips to the nearest beach—wherever you find a pair of trees, you have a ready-made hammock paradise waiting to be enjoyed.
Craft a cozy reading nook
Inside the home, window seats are the go-to when it comes to cozy reading nooks. Outside, however? Your hammock can do the trick, and then some!
Craft a cozy reading nook with your hammock by surrounding it with shade and plenty of flowers. By removing it slightly from the hustle and bustle of your pool or patio, you can achieve a sort of quiet, reflective getaway that is, in reality, just steps from your home.
Get the family together
Not all hammocks are made the same! Some are especially sturdy and can fit the entire family, which is perfect for when you're entertaining out-of-town relatives or simply want to unwind under the starts as a pack.
Cool off
The gentle swaying action that a hammock provides pairs delightfully with your backyard pool and other cooling features. Why not hang up your hammock above the pool for an easy way to enjoy the view (and maybe dip in your toes)? You can also place your hammock under your outdoor fan for a doubly cool experience.
For weekday de-stressing or simply soaking up the sun on a lazy afternoon, the hammock is your go-to tool. We hope that today's blog helps you embrace the spirit of summer with a hammock of your own!