Tue, Jul 10, 2018 at 12:00PM
---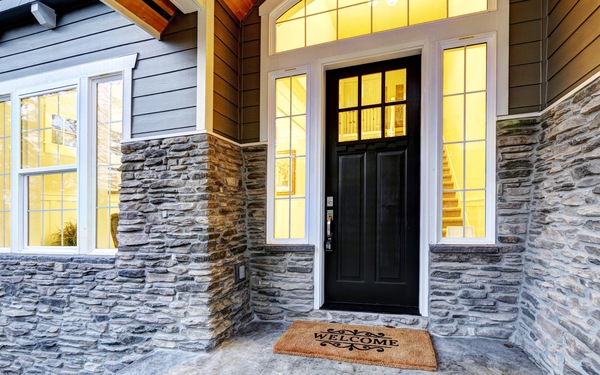 What can a fresh coat of paint do for your front door? When it comes time to sell, the right color might be a valuable addition—worth over $6,000, in fact!
That idea comes to us from the folks at Zillow. The real estate site's 2018 Paint Color Analysis of more than 135,000 sold homes suggests that homes with black front doors sold for, on average, $6,271 more than expected.
It's a big number that's sure to catch attention… especially considering the low cost that comes with painting your front door. Today, we're taking a closer look at this unique phenomenon, as well as some of the simple ways you can improve upon your own entryway. Just read on!
The allure of a dark door
What makes a dark door such a valuable touch? Perhaps it has something to do with the sense of elegance that the color conveys. Used on a front door, it seems to symbolize a luxurious home even before a buyer steps inside (one famous example is the dark door at 10 Downing Street, the Prime Minister's abode in the UK).
And on top of that, a black front door is one that's not afraid to stand out. It imbues a sense of gravitas, an idea that there's something truly one-of-a-kind about the house itself. It doesn't hurt that a black door easily hides many scuffs, scrapes and dirt, too, resulting in a clean, polished look year-round.
Our key takeaways
Of course, the analysis of black front doors doesn't mean that every homeowner who paints theirs should expect to see a price jump—many of the homes analyzed, for example, could have had other luxurious features that caused the added value, with the black door simply being a chic coincidence. But still—we like the idea that dramatic looks and attention to detail can help homeowners see real, tangible results like these when it comes time to sell. In any case, many sellers might simply say "it's worth a try!" and opt for the change of color. Who knows what it could lead to, after all?
Tips for a front door that "wows"
Black door or no, there are a few simple tips for maintaining a front door that's always in style. They include…
- Polishing your door knocker to help it stand out and shine
- Adding fresh trim to the outside of the door shape
- Surrounding the front door with beautiful, inviting flowers and plants
- Ensuring that your entryway electrics (from your doorbell to porch light) are in good working order, avoiding any hiccups during your open house
Feeling inspired? Whether you're ready to turn your front door a moody, jet black, or simply use these tips to spruce up your existing façade, we hope that today's blog helps you design a door you (and your buyers) will love.