Mount Dora FL Realtors - Get To Know Loretta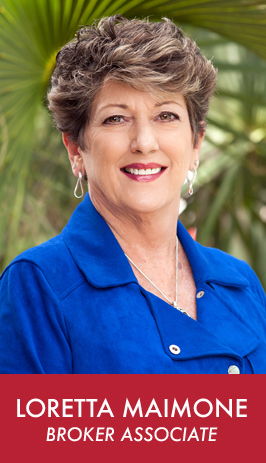 In Central Florida's Lake County, home buyers and sellers alike have come to know REALTOR® Loretta Maimone as "The one to get it done."


Loretta's Approach

Loretta's first step toward "getting it done" is to listen well and to understand what her buyers and sellers want and need. Then, she channels her seemingly limitless energy, enthusiasm, experience, and area knowledge to turning her clients' real estate goals and dreams into reality.
This dedication has made her a multi-million dollar producer each year since 2008. In recent years, Loretta ranked in the top 10 in total sales volume among the more than 2,000 agents who are members of the Realtors Association of Lake & Sumter Counties, Inc. In 2014, Loretta was voted Realtor of the Year by her peers of the Realtor Association of Lake and Sumter Counties.

An Authority On The Area

Loretta and her husband John have purchased and sold numerous homes and investment properties in Lake Country. As a result, she knows first-hand what buyers and sellers want and need, and she provides it.
A 35-year resident, she's familiar with every development and street in her territory. That knowledge, combined with well-honed listening skills and ability to understand what her clients want in a home allows her to save her buyers time and money.
Lake County home sellers appreciate Loretta's attention to detail and diligence in accurately and attractively presenting their homes online. Now that more than 95% of all home buyers go first to the Internet; professional photos and enticing descriptions can make the difference between the home selling success and failure. Her marketing plan includes posting her listings on more than 50 different real estate portals in addition to her websites and the Multiple Listing Service.
Once her online marketing for each home is in place, she focuses on off-line marketing and promotions, including direct mail and e-mail campaigns.
Real Estate With A Personal Touch


Loretta's dedication to customer satisfaction, her fun personality, her take-charge attitude, and her drive to succeed soon turn clients into friends. They know she's going to get the job done for them and that she won't let "getting it done" compromise their best interests. Her clients know they can trust her to "tell it like it is" even when it's information they'd rather not hear.
Community Involvement

Some wonder where Loretta gets the energy. In addition to going all out for her clients and taking extra classes to enrich her real estate skills, she's actively participates in the community. An avid supporter of Lake Cares Food Pantry, Deliver the Difference and Lake Cares Food Pantry, she is also involved in the Golden Triangle Rotary Club and serves on several committees of the Realtors Association of Lake and Sumter Counties.
Of course, her ongoing community involvement, reputation, and networking skills are a benefit to her buyers and sellers. When her clients come up against real estate issues, and conflicts, she knows which advocate to contact and where to go for a satisfactory resolution.


About Loretta

When Loretta takes a little time off, you'll find her enjoying time with her husband motorcycling, or relaxing on one of Florida's fabulous beaches with friends.



When it's time for you to purchase or sell a home in Lake Country, call on Loretta Maimone. She's "The one to get it done."