Meet REALTOR® Loretta Maimone – your go-to girl for all things Lake County!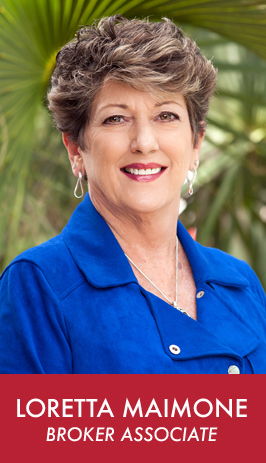 If you're looking to buy or sell property in Central Florida, you'll want a local expert like Loretta Maimone in your corner. Knowing today's market in Lake County is the key to your success – so don't rely on an outsider agent's best guesses! As a proud resident of the area for 42 years, Loretta lives and breathes the Lake County lifestyle, sharing a depth of local knowledge you'll find nowhere else as you plan your next chapter in the Sunshine State. And the best part? She brings her fabulous sense of humor and quick wit to each home search, making sure you'll be smiling every step of the way.


Loretta takes a "boots on the ground" approach to finding your dream home, starting with her boundless love for all of Lake County's local favorites and hidden gems. She's not just a real estate agent – she's your inside scoop on the best neighborhoods for your unique lifestyle, can't-miss sights and sounds of local events and festivals, and even the top restaurants and shopping for weekend fun. With Loretta on your side, you'll feel like a local in no time.


With plenty of accomplishments and certifications under her belt – like membership in the ERA Real Estate's Leaders' Circle – Loretta is a true powerhouse in the real estate world! She's held this esteemed title for 8 years, with consecutive standing selling an impressive $20 million+ in real estate each year since joining ERA Grizzard in 2015. Partnering with Loretta means having the confidence to navigate a fast-paced market with the insight of a true professional. And if you're a military family or veteran, Loretta's got you covered with specialized expertise, too. Loretta's husband John served in the Navy, so she's equipped with the right tools to navigate your unique needs in the housing market.


When she's not all business, Loretta takes community involvement to heart, supporting the Lake Cares Food Pantry, United Abolitionists – Stop Human Trafficking, Forever Wishes – Toys for Tots, and the funding of local school projects, alongside being involved in the Golden Triangle Rotary Club. Loretta has also served on several committees of the Realtors Association of Lake and Sumter Counties. Plus, for some fun in the Florida sun, she loves time spent motorcycling with her husband on the open road or taking in the expansive views of our state's gorgeous beaches!


Whether you're a first-time homebuyer or real estate pro, don't go it alone. Connect with Loretta Maimone today to meet your advocate, friend, and guide through the world of Lake County real estate – always rooting for your best interests and ready to complete a job well done!