Fri, Jul 31, 2020 at 12:25PM
---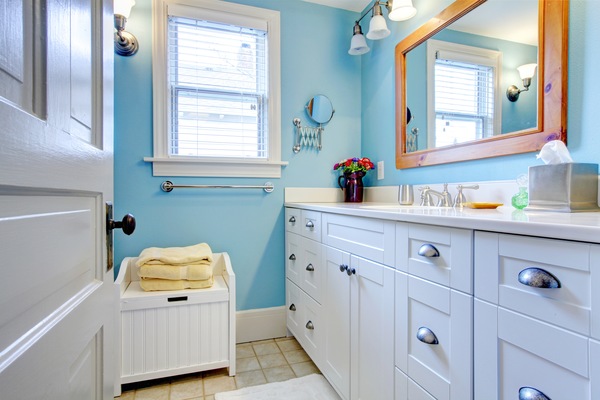 As we all continue to spend some more time at home, you may find yourself trying new DIY projects to beautify your space. Who knew that these projects could also make your home more valuable when it comes time to sell? Here are five simple paint projects you can do this weekend, that might just boost the value of your Lake County home.
Paint your bathroom blue
Though potential buyers do tend to favor neutral color schemes, there is one key area where they really seem to favor a splash of blue—the bathroom. Here, according to Zillow, you can add more than $5,000 to your home's value with a pleasing shade of blue. (This makes sense, as the ideal bathroom should be a serene place to unwind or prepare for the day, and blue is known for its calming properties.)
The best part? You don't need to be selling your house this month or even this year to enjoy the stylish benefits of a blue bathroom! Have fun turning your bathroom into a spa-style retreat with shades of periwinkle, cerulean or a welcoming sky blue the whole family will enjoy.
Add a splash of color to your front door for an effortless first impression
Your front door is an easy paint project with big returns! Devote an afternoon to painting your front door jet black, charcoal or even a beautiful navy blue—according to Zillow, these colors draw the eye and can increase the value of your home by thousands of dollars.
Opt for a taupe or greige living space
You probably already know that potential buyers prefer a somewhat "blank canvas" when viewing your home—in other words, you may love pops like a red kitchen or bright green bedroom, but shoppers want to envision themselves in your space, and a neutral color scheme can help them do that. However, don't feel the need to go for stark white! Leave boring behind and opt for a warmer neutral like taupe or greige, shades that work especially great in welcoming living spaces. According to Zillow, this can boost your home's value by almost $2,000!
Breathe new life into your walls
Maybe you already have the perfect colors in place—a beautiful blue bathroom, a serene taupe living space. However, this doesn't mean you should skip out on painting altogether. If it's been seven to eight years since your last paint job, the experts recommend repainting for walls that look fresh, clean and true-to-color!
For a stylish finish…
Don't forget about the details! It's the small stuff that adds up to an overall positive impression, so be sure to show some love to your home's baseboards and molding too—here, you can't go wrong with a glossy or semigloss finish to draw the eye to crisp lines and perform effortless everyday cleanup, too. Glossier paint holds up better to life's dirt and stains than matte finishes.
We hope that these ideas help you have some fun, beatify your space and earn some added home value along the way! For insights on selling your home or finding the next one, the team here at Loretta Maimone is here to help. Contact us today to learn more.