Fri, Aug 04, 2017 at 11:15AM
---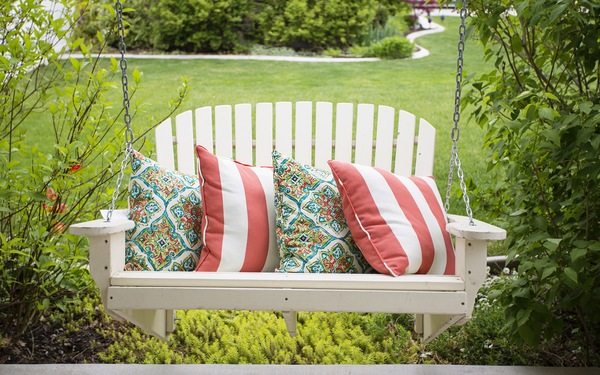 Swings aren't just for the playground! A swinging seat can add a sense of whimsical charm to your space, creating a comfy place to sit, read, chat, or simply unwind.
Today, there are more options than ever for homeowners who love this breezy style—and in today's blog, we're exploring five of them. Take a look below to see our favorites!
Porch swing
One of the most quintessential swings for a home has got to be the porch swing, a classically charming addition that can spruce up any porch or patio. You simply hang it from your exterior ceiling or overhanging structure to create a light, airy place to enjoy your morning coffee or catch up with a friend. Even when it's not being used, the porch swing adds an air of simple Southern style to your space that will truly make your home's exterior stand out.
Canopy swing
The canopy swing is similar to the porch swing in that can be enjoyed outdoors—however, if you don't have an overhanging structure to hang your swing from (or you simply want to use it in an open-air setting), this is your best bet! It can be moved from your patio to your garden for easy, laidback reflection. Or if you're hosting a party, it can be perfectly positioned by your outdoor kitchen or fire pit for a cozy seating option your guests will love.
Hammock chair
Who says hammocks are just for the outdoors? A breeze hammock chair that's suspended from the ceiling is a great way to add a sense of summer to your interior spaces, like your sunroom or reading nook. It follows in the tradition of cozy spots like the window seat to provide you or a friend with a chance to kick back and enjoy the simple pleasures of reading or soaking up the view.
Moving dining room
One modern, unique way to integrate swinging seats into your living space? Put them around a dining room table! Cutting-edge home designs have included this setup as a novel way to make dinner parties and holiday meals a little less formal… and a lot more fun.
Storytime swing
It's no surprise that a swinging chair would do well in a child's room, where anything "fun" can comfortably find its home. You can use it as an easy place to tell bedtime stories, or they can relax in it and catch up on some reading or homework of their own. A swinging chair like this just makes everyday activities a little more fun to do!
These seats add a sense of carefree relaxation wherever they're placed. Add one to your own space for a light, airy seating option that doubles as a true statement piece.