Wed, Jul 05, 2023 at 9:02AM
---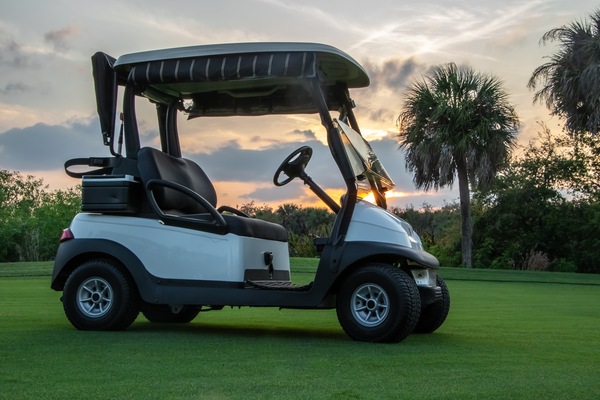 In delightful Mount Dora, golf carts aren't just a vehicle for the course. This exciting mode of transportation is a big part of the local lifestyle, too! The City of Mount Dora has established regulations to ensure that residents can enjoy using their golf carts while maintaining a safe community, too. Ordinance No. 2023-06 under Florida Statutes Chapter 316 authorizes the operation of golf carts on certain public streets – so it's simple for you to make the most of this mode of transportation around our charming Central Florida town! Before you hit the road in your golf cart, read up on these rules and regulations you'll need to follow:
Using Your Golf Cart
Getting out and about in your golf cart in Mount Dora isn't just a transportation novelty. In fact, it can be fun and even efficient, too! With the exception of certain special events that close city rights of way, golf carts are able to operate 24 hours a day, year-round. You'll need to be at least 16 years old and maintain a valid driver's license to operate a golf cart. When operating the cart, you'll need to adhere to normal traffic regulations as expected – and remember that sidewalks and bicycle paths are off-limits. If passengers are coming along for the ride, you may only transport as many riders as there are seats.
Golf Cart Equipment Regulations
When it comes to golf cart operations, remember – safety first! Be sure that your golf cart has all the specific safety equipment required by the City of Mount Dora. This includes a windshield, a driver's side exterior mirror, and either an interior rear-view mirror or a passenger's side exterior mirror. Your cart also needs headlamps, tail lamps, brakes, a parking brake, front and rear turn signals, a steering apparatus, rear and side reflex reflectors, and a horn. Also, if you have rear-facing seats, you'll need safety grab bars or rails, too.
Golf Cart Registration
Before you begin using your golf cart, you'll need to make sure you register your vehicle. The associated costs include a $25 registration fee, as well as a $10 annual renewal cost. All residents can get a golf cart permit for a vehicle they want to operate within the city limits – regardless of whether or not they have a property located within city limits.
Registration Process
Got all that information – and ready to apply to register your cart? The process is simple! You'll need to provide your application package to golfcartpermit@cityofmountdora.gov or drop it off at the Mount Dora Police Department, making sure to include the application, applicant affidavit, proof of insurance, and a copy of your driver's license. Then, if you've submitted a complete application, you'll be able to pick up your approved permit at the police department and pay the associated fee.
Insurance and Safety Necessities
As discussed previously, you'll need to submit proof of insurance with your application. Mount Dora takes safety seriously, so the city requires that all golf carts operated within city limits are covered by a valid insurance policy. This means coverage for both personal injury as well as property damage. Beyond this coverage, be sure to be especially mindful as you operate your golf cart, staying aware of pedestrians and refraining from texting – just as you would in any other vehicle on the road. Also, be sure to remember that golf carts and low-speed vehicles (LSVs) are not allowed on sidewalks or walking trails at any time.
Golf Carts vs Low-Speed Vehicles
However, are you familiar with the difference between a golf cart and a low-speed vehicle (LSV)? Getting this distinction right can impact your understanding of the correct rules and regulations to follow.
A golf cart is a motor vehicle, and it is designed for use on a golf course, for sporting, or for recreation. Its speed must not exceed 20 miles per hour, and it can operate on a City Right-of-Way with speed limits not exceeding 30 miles per hour. It must also be registered within the city.
If a golf cart exceeds a top speed greater than 20 miles per hour (but not above 25 miles per hour), it is designated as an LSV. With this in mind, any LSVs must be registered, titled, and insured with the Florida Department of Highway Safety and Motor Vehicles.
Additional Concerns
Once you've paid for your permit and registration, you'll receive a permit sticker, which must be placed on the lower driver's side windshield, in the lower right corner and facing outward. This will remain on the registered golf cart – and you can't transfer this permit to another golf cart or owner.
Ready to begin the process of operating a golf cart in Mount Dora? You're in for a fun and convenient experience, enjoying all the best of this unique lifestyle choice that adds to the fun and character of our vibrant community. There's endless reasons to call Mount Dora home – and its golf cart-friendly streets and welcoming atmosphere are just the beginning.
If you're making a move to Lake County, trust the local experts on the Loretta Maimone team! As your go-to resource for all things Mount Dora real estate and beyond, we're equipped with the knowledge and expertise to answer all questions you'll have about your homebuying journey in this lovely part of Florida. Contact us today to begin the process of finding and securing the perfect home for your Lake County lifestyle.