Mon, Feb 05, 2018 at 10:00AM
---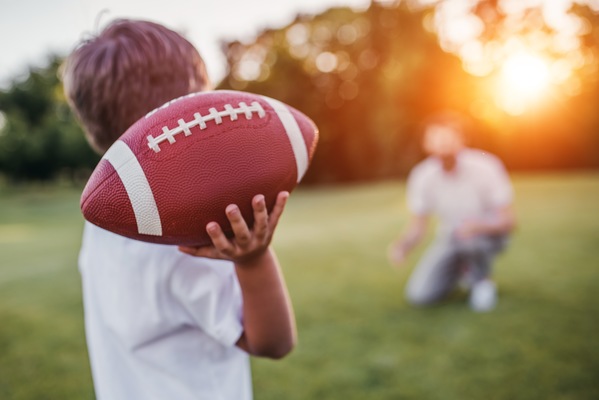 This past Super Bowl was one for the books, filled with excitement and energy all football fans can enjoy! But the excitement doesn't have to end once the game is done. In fact, it can continue in your own backyard!
If your family is home to any budding players, they're sure to enjoy the chance to practice and square off in a play space of their own—even if their version isn't quite as rough as the one on TV.
Read on to see a few of our favorite ways to transform your outdoor space into a destination perfect for practicing football, catch, and all your favorite backyard sports.
Grow a rich, lush lawn
Backyard football is sure to come with its share of tumbles—but when they happen, lush grass (and not turf) is sure to make those falls a little easier to manage.
For your DIY football field, you want your grass to be soft and well-maintained. To keep it nice and short, mow regularly (but avoid taking off more than 1/3 of the total length at a time, so as to not "shock" the grass). Add sod to provide coverage in patchy, muddy areas so that your field looks as good as the professionals.
Get more out of your space
While your backyard probably isn't large enough to house an actual size football field, you can still make the most of it! Any amount of play space is better than nothing. To make your space more usable, you line flowers, seating, and other landscape toward the edges of your play space (so that there's more room to run without worry!). You can add a fence—either made with wood or natural materials, like hedge—to constrain the play space and prevent the ball from flying out of reach on every play.
Add fun flourishes
To add a fun, fan-friendly touch to your DIY space, consider unique additions like an inflatable goal-post—or make your own out of yellow pool noodles! If it works with your landscape, flowers in team colors is another thematic touch players and visitors are sure to appreciate.
Remember the fans
Don't forget about the spectators! Giving them a comfortable place to sit and kick back is a great idea, as it will make your afternoon scrimmages even more fun and family-geared. The more, the merrier, after all!
Some options to consider might be a built-in bench that runs the length of your backyard (made with wood or stone that meshes with your existing landscape), patio sofas turned toward the play space, or even a comfy hammock or two!
Make it official
Finally, make it official. If you're really committed, you can pick up lawn paint and carefully detail your team's name or logo at the end of your "field" for a fun, authentic effect. When friends come to visit, there will be no question as to what team you support.
Win or lose, one thing's for sure—your backyard is sure to bring your family lots of fun, laughs, and friendly competition!