Fri, Sep 30, 2016 at 12:50PM
---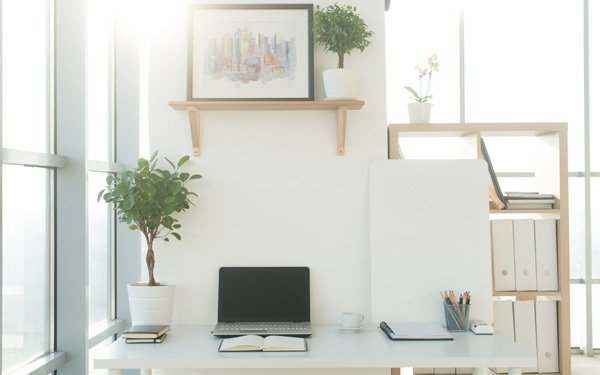 Did you know that the first week of October is known as Get Organized Week? It is, perhaps, a not-so-subtle reminder that work and the back-to-school season can thwart even our best organization efforts—but don't worry! In today's blog, we're looking at a few smart tips for organizing a busy part of many families' homes: the office.
Pick a system and stick with it
What makes the office such a clutter-prone part of our homes? The answer lies in the piles of documents, folders, mail and other items to sort through—but fortunately, the right system can make organizing these items easier than ever! The key is to pick one system you love, and stick with it—whether that's filing documents by date, by subject, priority level—no matter what the system may be, it should be one that makes sense to you.
Create a separate spot for kid-friendly office use
Many home offices double as study spaces for kids—if this is the case in your home, try designating a spot in your office as a kid-friendly zone, so your own work and files aren't disturbed. You can set aside a drawer toward school supplies, for example, and create a comfy corner perfect for quiet study, reading and more.
Go paperless
This tip might take place more on the computer than in your office itself—but in the coming weeks, spend some time scanning documents to your computer. It will prevent the need for you having to keep hard copies easily accessible, taking up extra space on your desk or in your filing cabinet. Digitized documents can also be searched through in a breeze—a far cry from sifting through papers and file folders filled with important information!
Incorporate functionality into your décor
Your home office doesn't need to be a bare-bones center of organization—spice it up with fun décor that serves a purpose, too. You can add a decorative chalkboard piece to your wall for an easy, creative way to make quick notes, for example. Corkboard in a fun pattern or a busy bookshelf arranged in an attractive rainbow pattern are also easy-to-achieve ideas.
Keep your desk as clear as possible
While it's easy to fill your desk space up with photo frames, tape dispensers, table calendars and your favorite knick-knacks, try to keep your desk space clear so that you have plenty of room to work and be productive (you can always adorn a bookshelf or cabinet with your favorite photos!).
Make your office a comfy place to be in
We naturally are more likely to keep spaces we love clean and organized—so spend some time making your home office a place you love to be in! Choose a comfy chair and add a coat of paint in a color that inspires you. This is your space to be creative and feel inspired, so choose colors, textures and decorations that encourage those feelings!
We hope that these ideas help you turn your home office into a neat, creative place you enjoy spending time in. Be sure to share your own office organization tips with us below!