Fri, Dec 10, 2021 at 4:20PM
---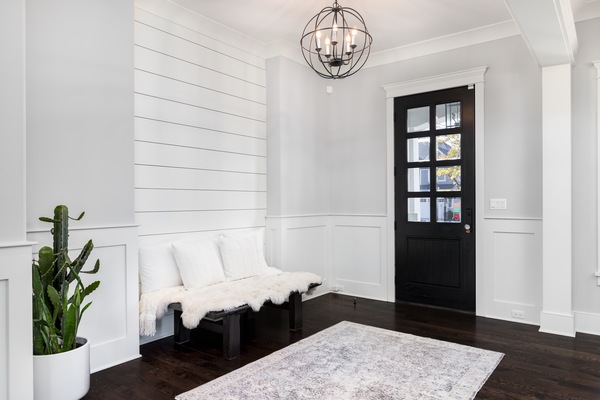 Decorating your home is one of the most personal parts of being a homeowner. Of course, your main living areas deserve most of your decorating attention, but it is important not to overlook your entryway in Apopka, FL.
Guests must first go through your front hall or foyer before getting to the other parts of your house. Making the entryway inviting sets the mood and puts guests at ease. Plus, it can serve as a rotational decoration opportunity as many people change things up with every season or holiday. Every decor element you choose can reflect you and how you want your guests to feel. Here are five tips for creating an inviting indoor entryway from your Apopka real estate pros!
Add Seating
Homes for sale in Apopka are often staged with seating in the entryways. There is a reason for that! If you have room, adding a bench or chair to your entryway can be very inviting.
Guests will immediately feel like your home is a place to relax. Further, they'll know that you put thought and effort into your home decor, which will put them at ease.
Select Appropriate Lighting
Good lighting can add so much value to your home, your entryway included. If guests walk into a dark hall, they could immediately feel uncomfortable. Similarly, they won't feel welcomed if they walk into an area with super bright lighting. Go for subtle lighting or utilize lamps to give the entryway a warm ambiance.
Utilize Rugs
Apopka homes with texture and color are all the more inviting. If your home doesn't have these decor elements just yet, rugs could be the solution!
Rugs are not only a great decor piece, but they also add a lot of warmth to a room. It is not particularly inviting if guests walk in to see only cold hardwood floors. Even if you have carpet in your entryway, adding a rug can break up the space and help make it feel cozier.
In addition, guests feel more comfortable walking into your entryway on a rug rather than exposing their outdoor shoes to your floors right away.
Consider an Accent Wall
While many homeowners are hesitant to commit to accent walls, an accent wall can be a great addition to your entryway. Accent walls are eye-catching. They can say a lot about your style and add an incredible amount of warmth to the space.
Large white walls can feel cold and off-putting, so an accent wall is the perfect way to welcome guests to your home. Just be careful not to choose colors that are too dark, as they can make the entryway feel gloomy and small.
Decorate Your Entryway
This may seem like an obvious piece of advice, but you'd be surprised how many homeowners forget to decorate their entryways. Art and other wall decor should not just be reserved for major rooms of the home. Add some wall art, hooks, or other decorative items to give the entryway an inviting, lived-in feel.
Homes for Sale in Apopka
Apopka is a sought-after place to live for a variety of reasons. There are many beautiful communities with beautiful homes that you'd be proud to be a part of. In Apopka, new and old homes alike offer charm, perfect for living and hosting all year round.