Wed, Nov 17, 2021 at 11:36AM
---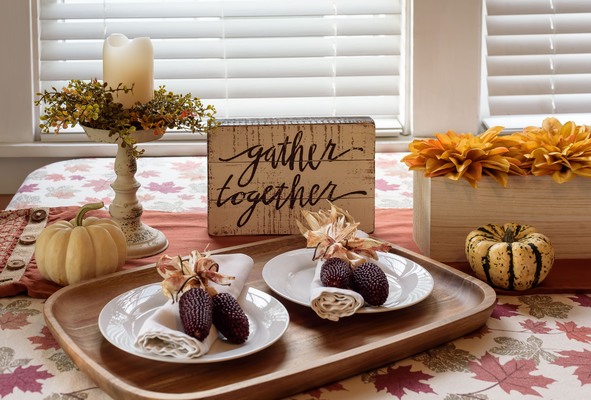 'Tis the season for gatherings and festivities in Mount Dora homes! Whether it's family, friends or colleagues, many people may be stepping into your home this Thanksgiving. So, your Mount Dora realtors are here to help you put your best foot forward when creating a comfortable and inviting space for your guests. Read on for 5 decor ideas to try in your home this Thanksgiving!
Make An Entrance
As guests arrive at your Mount Dora home, one of the first things they will notice is the door they knock on or walk into, so that is your perfect chance to make a festive statement! Not only are wreaths and door mats a great way to spread Thanksgiving cheer, but your entire entryway can be decorated as well. Try adding some potted plants around your doorway or some pumpkins. Other popular choices can include hay bales or wood stumps to pull in those natural, warm elements.
Keep It Cozy
As the weather outside gets cooler, there are more and more reasons to get cozy! This Thanksgiving, make sure your home feels comfortable for your guests by adding relaxing elements throughout every room. Swapping out your throw pillows in your living room or adding throw blankets over accent chairs are a great way to invite guests to sit back and relax a little. Now is a great opportunity to swap out the bedding in your bedrooms for something a little warmer, like fleece sheets or extra layers, especially if your guests are staying the night.
Bring The Outdoors Inside
There is just something about the outdoors during falltime that is so peaceful and inviting. Whether it's the colors of nature or the crisp breeze, there are so many inviting ways to bring the beautiful outdoors into your home this Thanksgiving. Try scattering candles throughout your home that are nature-scented, like evergreen trees, wilderness and florals. You can also invite nature into your home with some dried florals, like pampas grass, psalm, bunny tails and strawflowers.
Set The Table
This Thanksgiving, a lot of time is likely to be spent around the table, from enjoying food to playing family games. That's why your tables are a great way to show off your Thanksgiving spirit. Whether it's a dining table, a coffee table or even a kitchen island, there are so many ways to incorporate fall decor as guests enter your home. Try setting up festive table settings with checkered napkins and fall-colored plates or try adding a bold centerpiece with mini pumpkins or a vase filled with fall leaves.
Spread Gratitude
This time of year is the perfect time to think about all you are grateful for! And it is also the perfect time to spread that gratitude all throughout your home. There are so many ways to spark joy for your guests as they walk around every corner of your Mount Dora home. Try writing your favorite quotes on a chalkboard decor piece, or hanging wall decor with calligraphy quotes on them in high-traffic parts of your home.
If you are opening up your home to friends, family, colleagues or others this Thanksgiving, now is a great time to start thinking about how to evoke comfort and happiness through your home's decor. Your home should make you excited to invite guests over, so when you're ready to find the perfect home to entertain during any holiday, give us a call. You'll be in the best hands possible for all things Mount Dora real estate and beyond!