Tue, Jun 01, 2021 at 5:45PM
---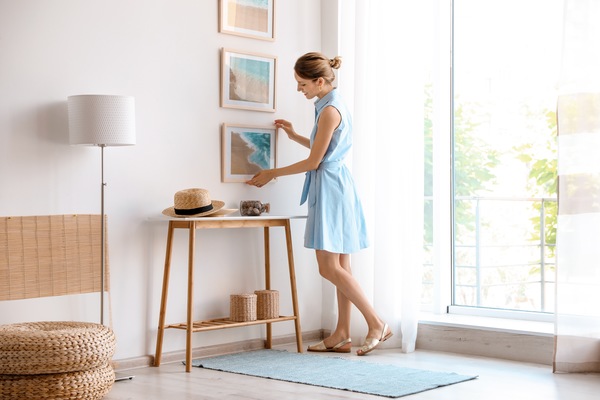 Summer is right around the corner and there's no better way to enjoy the new season in your Mount Dora home than with some spirited decor! Once you've nestled into your new Mount Dora home, you can start to enjoy the many benefits of the Mount Dora lifestyle, like the beautiful Florida summers. Whether you enjoy a consistent home theme throughout the year or you like to switch things up with the seasons, read on for ways to make your Mount Dora home a summer oasis with your decor!
Make a Statement With Shiplap
As a growing trend in home decor, shiplap is a form of siding that was commonly seen on the exteriors of barns and sheds but is now more frequently seen throughout the interiors of homes as well. Intended to make your space feel more relaxed, add a shiplap accent wall in your living spaces to help your Mount Dora home embody the relaxing ambiance of summer in Florida!
Let The Sunshine In With Mirrors
An old home decor hack that has held popularity for many years has been incorporating mirrors into your spaces to make a room feel larger. But in addition to creating space, mirrors also help bring light to otherwise darker spaces. A great way to bring summer into your home is by allowing a lot of natural light, and if your home doesn't have a ton of windows to work with, mirrors are a great way to achieve the same bright and lively results!
Brighten Things Up With Light-Colored Paint
The summer spirit is all about keeping things light and fresh. That's why brightening up the rooms in your house with some light-colored paint is a great way to freshen up for the summer. Some great options are to keep things neutral with whites and tans or add a little bit of color with some lighter pastels to achieve a more coastal look. Whatever you choose, lighter colors reflect more light and help achieve a brighter home this summer!
Bring The Coast To You With a Touch of Nautical
Many Florida homes achieve a beautifully crafted coastal theme throughout the year, and if you're looking to try out the popular trend for yourself, there's no better time than just in time for summer! You don't have to live at the beach to embrace the coast either. Bring the coast to your summer oasis with nautical decors like seashell art, textured jute rugs, themed figurines and rustic touches.
Invite The Outdoors Inside With Natural Elements
The beautiful summer weather that comes with life in Mount Dora may make you want to spend all your time outside, but if you want to escape the heat yet still enjoy the stunning Florida outdoors, try incorporating natural elements into your home this summer! From placing real flowers and plants throughout the home to setting tables with driftwood centerpieces, there are so many ways to add organic touches throughout your home to embrace the outdoors on the inside, too. Different types of natural woods, live plants and flowers, jute woven textiles, leathers and other natural elements help kickoff summer with a bang!
A new season means new opportunities to allow your Mount Dora home to flourish! Achieve a summer oasis without having to leave your home in Mount Dora by incorporating these fun decor ideas throughout your spaces. And if you're looking for a new space to begin adding these summer decor tips to, give our team of experts a call today and we'd be happy to help you find your home sweet home in Central Florida!