Fri, Jan 29, 2021 at 10:10AM
---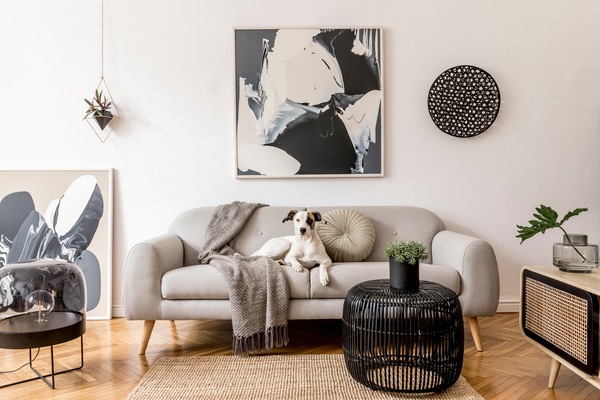 One of the most exciting things about finding the home of your dreams is decorating it! When it comes to filling it with furniture that fits your personality of light fixtures that meet all your needs, finding your home decor style can be a great place to start to help you make all of those design decisions! Check out these popular interior design styles and discover if any are the perfect fit for you and your family!
Coastal
The Coastal design style is all about the light, bright and airy – and we love that! Your home doesn't have to be on the water to embrace this popular design style because, at the root of it all, the coastal design emphasizes a relaxed lifestyle. To incorporate the Coastal style in your home test out some textured pieces, like a jute rug or rope wall decor, or opt for a bolder move with a seafoam green accent wall to bring your living spaces to life!
Modern Bohemian
Channeling a free-spirited aesthetic, the Modern bohemian style mixes the statement pieces of an eclectic style with the warm roots of the mid-century modern style. Using globally-inspired textiles and highlighting nature-inspired accents, the Bohemian style isn't afraid to get a little mismatched. To test out the Modern Bohemian style in your own home, try adding a bold patterned rug to your living room or a few macrame tapestries to your walls for an atmosphere that says, "Welcome – come get comfortable!"
Traditional
Rooted in European sensibilities, the Traditional interior design style is probably one of the most well-known. Typically featuring darker woods and intricately-detailed tables and chairs, the Traditional style introduces a subtle sense of elegance and luxury. To incorporate the Traditional style into your spaces, try using luxury fabrics like velvet, silk, and linen for your bedding and upholstery to highlight the depth and dimensionality of the traditional lifestyle!
Modern Farmhouse
Exuding warmth and comfort, the Modern Farmhouse style takes traditional farmhouse styles and simplifies them without losing any character! Using a mix of high and low contrasts, this style invites rustic country elements to emphasize rich architectural features. To test out the popular Modern Farmhouse style in your own home, try opening up your home to more of an open floor plan or try adding dark wood accents to bright, white foundations.
Minimalistic
The Minimalistic style is an uncomplicated one emphasizing clean lines and simple finishes! Inspired by Japanese design, color palettes are typically neutral and airy to highlight a "less is more" lifestyle. To incorporate this style into your home, try finding multi-purpose, functional furniture pieces, like a coffee table that can also be a desk or storage space, or try using very little to no wall decor. This home decor style is usually more than a design choice — it's a way of life, too!
Each design style brings something unique to the table, but when it comes to interior design, you definitely don't have to stay in one lane! We love the idea of combining style to put your own spin on your home as well as changing it up from time to time – it doesn't always have to stay the same. Your home should feel uniquely yours and whether your design style was on this list or not, we encourage you to find home decor that sparks joy and takes your house from "house" to "home!"