Thu, Dec 31, 2020 at 1:19PM
---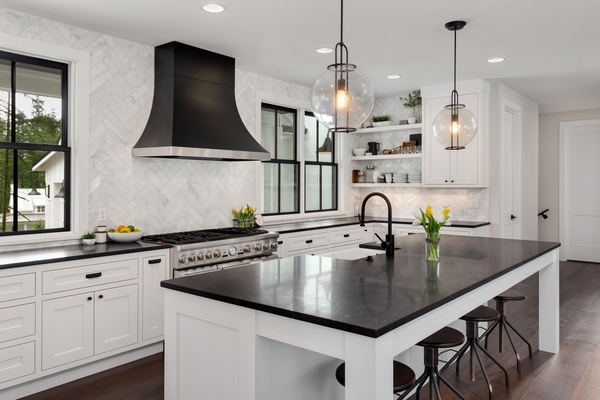 In many homes, the kitchen is the unsung hero of festive fun and family moments! After a delicious holiday season, you may find yourself wondering… are there ways to boost the value of my home through my kitchen? As it turns out, the right additions and renovations may make it easier to sell your home—and today, we're exploring how. Take a look below to learn more!
Color-block to boost value
When you think of lucrative kitchen remodeling projects, your mind might jump to sleek new granite countertops or a splashy smart fridge. But surprisingly, one of the most valuable additions might be a simple coat of paint! A 2018 Zillow survey found that homes with tuxedo kitchens, with a stark contrast of dark and light features, fetched an additional $1547 compared to homes without. Even if you're not planning to sell your home anytime soon, this is a fun, stylish project we can't get enough of. The modern combination of black lower cabinets and white upper ones, for example, adds dimension to your space and a sense of luxury. Why not try it during the upcoming new year for a fresh new look?
Minor remodel, major ROI
Now onto something a little more substantial: kitchen remodeling projects.
When it comes to these more extensive endeavors, do you gut your entire kitchen and go ultra-modern? Or make smaller, simpler switches for an overall upgrade? According to our friends at Zillow, your best chance at a high ROI is to take the minor remodel route for an average ROI of 81.8 percent. This might include cabinet swaps, new counters or flooring, for example, but won't require the addition of entirely new structures like an island or reworked layout.
Of course, as is the case with home renovations of all shapes and sizes, there is no guarantee on how a kitchen project might be able to boost the value of your home. (Tip: You can always ask the Loretta Maimone team for tips on gauging the benefits of a kitchen project in your unique neighborhood. We're here to help!)
The bottom line? A modern, functional kitchen can help your home stay competitive on the market as long as other basic house needs (like siding, a quality roof, etc.) are addressed first. Beyond that, look at larger-scale kitchen projects as investments in family fun, gourmet dinner nights and your own personal enjoyment of your space!
We hope that these tips help you navigate your next kitchen project with ease, for countless family meals, special occasions and everyday dinners to come.