Fri, Sep 23, 2016 at 5:35PM
---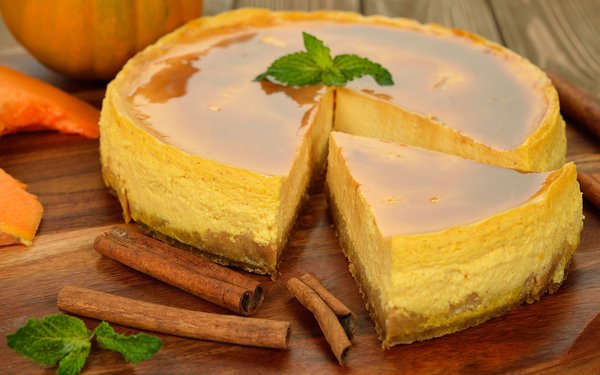 This October, you can count on warm scents from the kitchen to deliver a fall-time feeling to your home! Whether you're looking for the perfect dish to serve at your upcoming Halloween party, or simply want to snack on something sweet throughout the season, here are our favorite pumpkin treats to try this fall.
Pumpkin cheesecake
We're kicking off our list with a deliciously simple favorite, pumpkin cheesecake. It's a light way to enjoy your favorite pumpkin flavor, sliver by sliver! Serve yours cold as a dinnertime dessert (better yet, celebrate with this dish on October 21st, popularly known as Pumpkin Cheesecake Day!).
Classic cookies, pumpkin style
Looking for a delicious dessert to hand out to friends and family? Look no further than your favorite cookie classics, served pumpkin style. You can either prepare a batch of pumpkin-flavored cookies, mix pumpkin spice chips into your existing recipe, or top off chocolate chip cookies with rich pumpkin frosting. It's up to you!
Pumpkin chips
Yes, there's a savory way to enjoy pumpkin, too! You can slice up the insides, or "meat" of a pumpkin into chip or fry-shaped pieces, then coat them in oil and salt before baking them to perfection. If you love pumpkin flavor and want an easy, snack-worthy way to enjoy it, this is the way to do it!
Pumpkin donuts
This is a sweet breakfast dish you can find at almost any bakery this time of year—but why not try it yourself? You can make fluffy pumpkin donuts at home by the batch by baking instead of frying.
Breakfast bars with a pumpkin touch
For an easy treat that will get the family on their feet in the morning with ease, breakfast bars with a touch of pumpkin are certainly worth trying. You can bake a batch of your own by starting with a base of canned pumpkin puree. There's a wealth of recipes online to try, but we always like to top ours off with a tasty cream cheese frosting.
Pumpkin mousse
Pumpkin mousse can be made with a combination of cream, canned pumpkin and a few added spices—when combined, the mousse is sweet, light and easy to enjoy. The fun part about this dish is how to serve it—an especially festive option is to scoop the mousse into small, hollowed-out pumpkins for your guests to enjoy.
Pumpkin spiced drinks
We all love indulging in pumpkin flavored drinks from the local coffee shop—but did you know that it's easy to make your own at home? Pick up some pumpkin pie spice from the grocery store and experiment with ways to add it to your morning coffee or hot chocolate for the kids.
Sweet pumpkin muffins
Pumpkin muffins are sweet enough to enjoy as a dessert, but satisfying enough to eat for breakfast! Make pumpkin muffins (homemade or prepared from a mix) a staple of your weekend brunches this fall.
S'mores with a seasonal twist
For an extra sweet, seasonal way to enjoy s'mores this fall, replace the traditional graham cracker with a bite-sized pumpkin cookie. This is a treat that will be sue to satisfy whenever your sweet tooth strikes.
Pumpkin pie
We couldn't finish our list without mentioning the ever-delicious classic, pumpkin pie! While it's a favorite at Thanksgiving, it's also worth enjoying during the weeks leading up to Halloween—especially if you have more pumpkins on hand than you know what to do with!
Which of these treats do you plan to try first? Let us know, and share your favorite twists on each dish! We hope that today's blog helps you usher in warmth and a seasonal spirit into your home.