Fri, Dec 01, 2017 at 2:35PM
---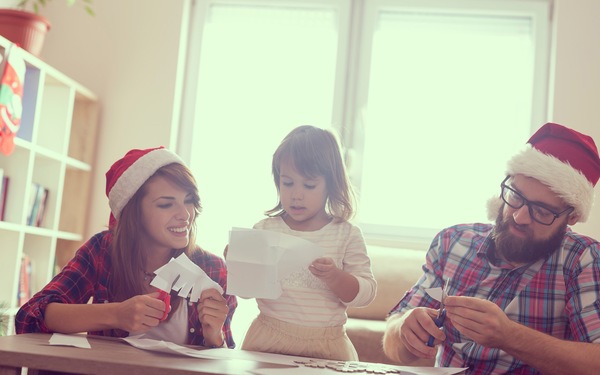 Holiday décor doesn't just look good… it can be fun to make, too! Knock off two items from your holiday "to-do" list by putting up decorations and having some family fun along the way.
Read on to see a few of our favorite DIY ideas!
Palm frond reindeer
Here in Florida, we've got more than enough palm branches on the ground for this fun DIY! Turn the v-shaped fronds into the base for a reindeer's head and antlers. Just add a bright red pom-pom nose and googly eyes!
Macaroni ornaments
Macaroni art is a classic kids' pastime. Put a holiday spin on this easy activity by using straight, small pasta pieces (such as penne) to form the shape of a tree or snowflake! Glue together, add some glitter, and hang from your tree for a fun decorative flourish.
Santa photo op
Pick up a basic mirror from the store, then stick or paint on a white fluffy beard and Santa hat. Family and friends can pass by the mirror and take pictures of themselves, Santa-fied!
Easy book décor
If you have more books than you know what to do with, put them to use this season as holiday décor! The spines of white books, for example, can be arranged in a snowman shape—just add a red scarf and hat on top! Similarly, you can assemble green books in the shape of a Christmas tree, and so on.
Word décor
If you have leftover Scrabble letters, or craft letters from the store, you can glue them together to form fun holiday sayings that make great ornaments—like "FA LA LA," "LET IT SNOW," or "HO HO HO."
DIY holiday cards
While not décor per se, adding a DIY flair to your family's holiday cards is a fun, meaningful way to spread seasonal cheer. Add cotton balls for fluffy 3D snowmen, or cut scraps from an old shirt to attach as a flannel scarf for your Frosty.
Pine cone trees
If you find any pine cones laying around, why not turn them into mini trees themselves? You can spray paint your pine cones green, then add small buttons or pom-poms to serve as bright, colorful ornaments. Arrange on top of a bed of cotton ball "snow," and you're good to go!
When it comes to decorating your home for the holidays, these handmade touches add a festive flourish that can't be beat!