Thu, Feb 01, 2018 at 9:45AM
---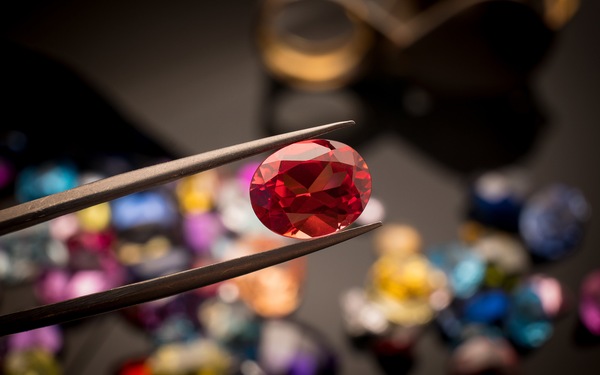 Just like candy hearts and love letters, beautiful jewelry is a mainstay of Valentine's Day. But what if there were another way to wear those beautiful jewel tones—not around your wrist, or neck, but on the walls of your home?
Jewel tones make for a truly unique addition to any space. Colors like amethyst, emerald or dramatic ruby can add a sense of sophistication to kitchens, bedrooms, bathrooms and more—transforming your space for the better along the way.
Wondering how to make jewel tones work in your own home? Read on as we explore a few of our favorite ideas!
Get to know jewel tones
First up, what sets a jewel tone apart from other colors on the spectrum? Something about these colors lets them look flattering on just about everyone (and everything, too). Because each is such a rich, vibrant color rooted in nature's gemstones—unlike, say, hot pink or fluorescent yellow—there's something intrinsically appealing about them, making them good as go-to splashes of color wherever they're needed.
Try lapis luxury
Lapis describes the vibrant blue, almost violet-leaning jewel tone. The color is bright, a standalone star in its own right, but is especially refreshing as the counterpart to more popular blue décor schemes like turquoise or navy. To make a statement this season, you can try integrating this semi-precious stone's hue into small, powerful spaces—use it on an accent chair or in a lux, ornate bathroom fixture. You can't look at lapis and not feel instantly transported to a timeless place of luxury and refinement.
Add warm-toned drama with ruby
For a dramatic flair, why not opt for ruby? This classic, dazzling red can work in its true form in a vase or even on your kitchen backsplash, where it can shine the day away. You can also opt for a muted version of this vibrant red on your dining room or bedroom walls!
Create an emerald escape
There's something effortlessly classic about emerald. Using this rich green hue in your living room provides a fresh, playful atmosphere, one that is not too bright (like lime green) or reminiscent of a trip to the woods, like hunter green might be. The end result is elegant—almost stately—while still not taking itself too seriously.
Indulge in amethyst allure
Looking for that perfect, ultra-alluring shade to use in your bedroom or living space? Amethyst might be just the ticket. Integrating amethyst into your space is the perfect solution for those who want to avoid bright, pink-leaning magentas or overly soft and delicate lilacs and lavenders. Amethyst falls somewhere in the middle, flooding your space with a feeling of warmth and a bit of royalty (the trait with which purple is most commonly linked, after all).
This Valentine's Day, jewel tones don't just belong in a heart-shaped box. Enjoy these beautiful, universally-appealing colors all around you, as welcome props on walls, furniture, and your favorite decorative flourishes.