Mon, Jan 09, 2017 at 6:50PM
---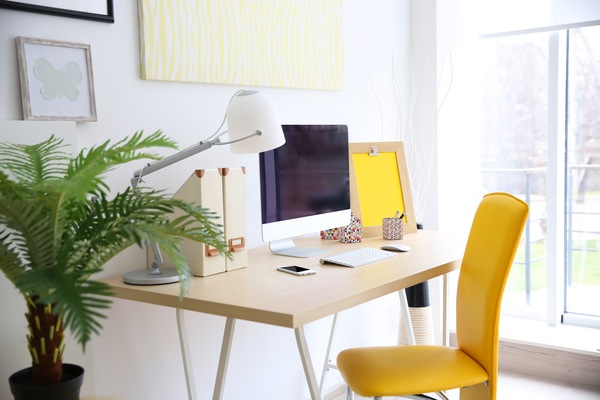 We've all been there—as your family grows, it can seem like your house starts to shrink at the same time! If a room in your home is taking on a second purpose (or third, or fourth), there are a few simple ways to maximize your space and keep your space as neat as possible. Take a look below to see our favorite ones!
Take advantage of natural breaks in your space
Finding space for all of life's necessities requires some serious brain work—but sometimes, the best solutions available are right under your nose! When searching for ways to make a space serve more than one purpose, scan the room and look for natural breaks in the layout—a sitting room that branches off of your master suite, for example, or even a seemingly awkward indentation in the wall. These are the spots that have the most potential, as they can more naturally work how you need them to—as a mini office, craft corner, etc.—without disrupting the flow of the main space.
Consider office alternatives
A traditional office might house a long desk with a large surface area and all the fixings—but if you're pressed for space, alternatives like a computer cabinet can work well! A corner cabinet can hold your computer, office supplies, and other necessities—but when it's closed, it will look a lot like a wardrobe or other piece of the room that it's in.
Turn any room into a guest room
If you want to host family and friends more often, but just don't have the spare room to do it, consider turning a craft room, home office, or den into a part-time guest room with one simple addition: a day bed! When not in use as a bed, it will look like a comfy couch for entertaining or relaxation—when your loved ones come to stay, however, they'll have a comfy place to spend the night.
Carve out a space in underused areas
It may seem impossible, but some rooms actually have more space than we need! If you aren't currently using the extra square footage in your laundry room or breakfast nook, these can become the perfect spot for added storage, a work desk, or whatever else you may need.
Use smart pieces of furniture
Does your guest room serve triple duty as a game room and home office, too? Opt for furniture pieces that serve multiple purposes, too—like a comfy office chair that can recline and serve as a gaming seat! This will let you enjoy the multifunctionality of your space without crowding it with multiple pieces of furniture.
With a bit of clever planning, you can streamline your space and accommodate new needs along the way. We hope that these tips help make your home a neater, cleaner space in the months ahead!