Wed, Apr 19, 2017 at 11:15AM
---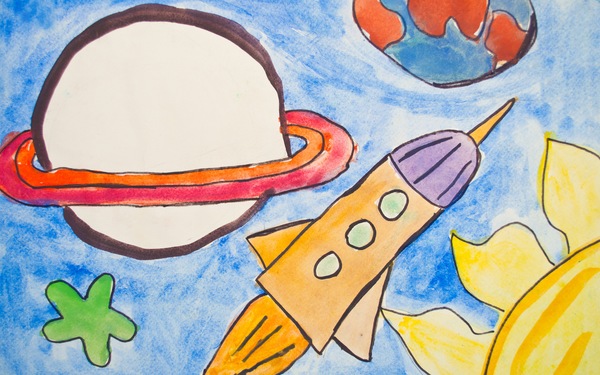 The family fridge door has served as the de facto display space for kids' arts, crafts, and praiseworthy accomplishments for about as long as we can remember.
But if your fridge is running out of space, or you're looking for a new way to display all that great artwork, you're in luck! Take a look at today's blog for five fun ways to display kid creations.
Put your art behind glass
One of the cleanest, simplest ways to display your child's artwork is to simply put it inside a glass frame and hang it up! This adds a sleek, professional quality to the art—and you can bet that your child will be more than excited to see their art in all its glory, proudly displayed like something they'd see at a gallery or museum.
Hang it up in a kid-friendly space…
So once you've framed the work of art… where do you put it? It seems like a fairly straightforward question—find an empty wall and "ta-da!"—but the options are truly endless. One great idea is to hang up a collection of your child's artwork in a kid-friendly space, like a playroom or study space. The art is probably colorful, whimsical, and bright, so it would make a perfect addition to any space that's similarly inclined.
… or liven up a quieter room
Of course, the opposite holds true, too: your child's artwork can find a welcome home in quieter, more serious spaces that could benefit from a little "livening up." Add a splash of color and fun in the form of a child's creative masterpiece so that spaces like your living room or home office don't feel too formal.
Magnetize it
Magnets aren't just functional—they're fun to play with! For a truly one-of-a-kind creation, why not cut out figures from your child's artwork (like people, animals, imaginary creatures, etc.) and paste them onto magnets? You'll be able to attach them to your fridge or study room whiteboard and provide hours of fun and imagination—plus, you'll never run out of magnets on the fridge again.
Create a shadow box for three-dimensional finds
Of course, not every piece of art is two-dimensional. If your child brings home unique creations like clay figurines, tissue paper roses, and just about anything else you want to save forever, put them in a handy shadow box! You'll be able to display them with pride without worrying about them getting lost or accidentally crumpled up.
No matter what option you choose, you'll be honoring your child's hard work with a fun, visual display for all to see—what could be better than that?