Thu, Dec 01, 2016 at 2:45PM
---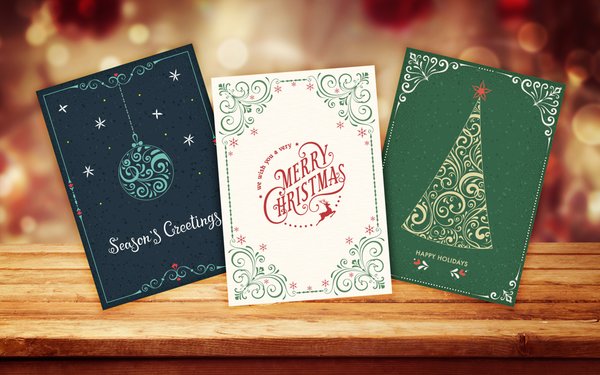 This month, you'll start to see an influx of holiday cards wishing good will, cheer and happiness throughout the season. There's nothing like the warm feeling you get upon opening a card from someone you love—the only question is, where do you put them all?
While the greeting card conundrum can be tricky, we've got seven fun display ideas to try in today's blog.
Staircase garland
For two-story homes, this is a natural option. Wrap a festive green garland around your staircase bannister, then affix your holiday cards to it using clothespins. Every time you head up or down the stairs, you'll be greeted by the warm wishes and kind words of your friends and family.
Mantel memories
If you have a fireplace, another great option is to line up your holiday cards on top of your mantel. They will add to the cheeriness of your space and help you create a holiday-centric focal point for family and friends to admire.
Doorway décor
If you've got lots of cards on your hands, why not create a decorative doorway border with them? You can outline your home's interior doorways with cards pasted to the wall for a cheery but subtle effect that's sure to brighten up your day as you come and go.
Tree of cards
You've heard of a house of cards—what about trying a tree of cards? This variant won't require you to carefully balance cards on top of each other—instead, simply paste cards to the wall in the shape of a tree! It's a great way to dress up an empty wall, and will be sure to "wow" guests as they come in.
Cabinet surprises
You'll always feel the love in the kitchen if you attach your holiday cards to the cabinets you use every day.
Cards on the corkboard
No time to spare? A simple way to display your cards is to attach them to a corkboard you already have on hand. Your family can help out and attach words or graphics related to the holiday, too, creating a sort of holiday vision board in the process.
Window wishes
For a light, airy way to display your cards, attach them to a ribbon and hang that ribbon in front of your home's windows. It's a visual treat you will get to enjoy from inside and out!
We hope that these ideas help you cut down on holiday clutter and make room for the well-wishes of friends and family. From our family to yours, have a very happy holiday!