Tue, Jul 03, 2018 at 12:00PM
---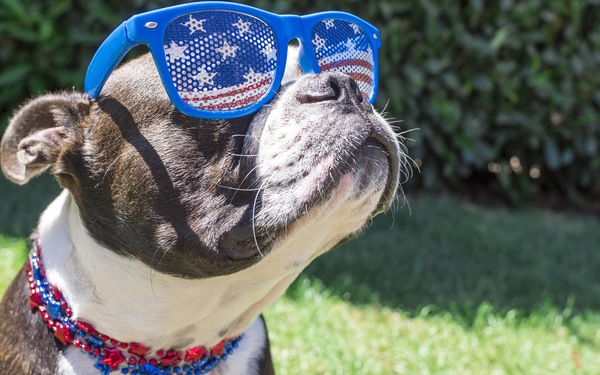 Happy Fourth of July, Lake County!
For fun around town or right in your own backyard, we've got you covered. Slip into your red, white and blue best, and read on for seven of our favorite ways to spend the holiday with friends and family.
Have fun at Freedom on the Waterfront
Even before the Fourth of July is officially here, Mount Dora's got the perfect way to start off the fun. The city's beloved Freedom on the Waterfront event kicks off at 5 pm on July 3rd, right at the heart of Mount Dora's aquatic landscape: Elizabeth Evans Park. There will be fireworks fun and live music courtesy of The 13th Army Band featuring Spayed Koolie. Have some fun, then turn out on the Fourth for the city's annual downtown parade!
Create a red, white and blue pool-scape…
Spending some time by the pool this Fourth of July is a simple idea that's sure to satisfy. For a touch of seasonal décor, why not create a red, white and blue pool-scape? Add white and red beach balls, floats and other items to the cool blue backdrop of your pool for a fun holiday look (and the perfect photo op!).
… or go for a swim!
Don't have a backyard pool? No problem! At Leesburg's Fourth of July Celebration at Venetian Gardens, there will be an all-day free swim starting at 11 am, while the fun continues as the day goes on. There will be live music, delicious food, inflatable fun, face-painting for the kids, and even a baseball game between the Leesburg Lightning and Sanford River Rats at Pat Thomas Stadium at 5:30! The bevy of activities to enjoy all leads up to the main attraction, a vibrant fireworks display over Lake Harris.
Dig into a cool, classic treat…
For a delicious Fourth of July treat, turn a summertime classic patriotic! Whip up a batch of chocolate chip cookies, then use a scoop of vanilla ice cream to make a delicious ice cream sandwich. Then, simply dip the sandwich into red, white and blue sprinkles or nonpareils for a seriously sweet treat.
… or take it on the go
Another sweet option to enjoy on the Fourth of July? Try an RWB fruit salad! Mix up strawberry, blueberry and banana pieces in a bowl, refrigerate, then take with you wherever the day leads.
Paint the sky
Kids will love this simple holiday craft—just work outside so you don't need to worry about getting messy! On black cardstock or construction paper, use plastic forks—not paintbrushes—and create vibrant red, white and blue firework displays. The fork's shape will create the perfect starry effect, effortlessly mirroring the magic that's happening just above the horizon.
Enjoy an old-fashioned celebration
Finally, head to Tavares to enjoy its very own Old-Fashioned Fourth of July event! A classic parade kicks off at Main Street at 5 p.m., while fun activities for the family (like games, live music and dancing "soul therapy" courtesy of Blonde Ambition, crafts, rides and more) continue all day long, leading up to the fireworks. At this feel-good event, you can also do some good, too: You can bring items like phone cards, sunscreen, snacks and more to serve as military donations at this year's event.
We hope these ideas help you enjoy your Fourth to the fullest!