Mon, Jun 27, 2016 at 3:00PM
---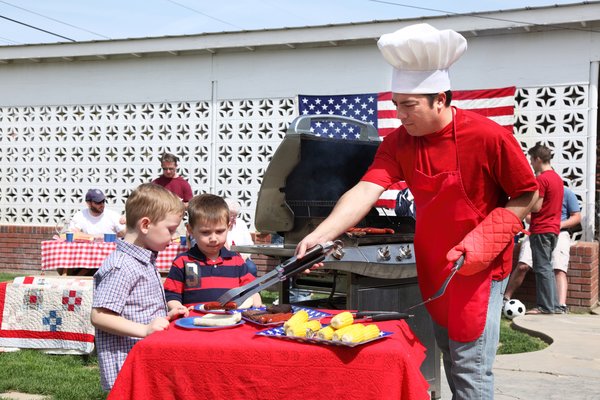 With the Fourth of July rapidly approaching, now's the time to get your holiday plans in order—and if you're looking for something special to do as you wait for the fireworks to start, we've got you covered! Here are seven easy ways to incorporate family fun into your Fourth of July celebration.
Fire up the grill
Nothing says "Fourth of July" quite like a good backyard barbecue. Invite friends and family and fire up your grill to make favorites like hot dogs, burgers, kebabs and more. If you have a backyard pool, this is a great time to get everyone swimming while they wait for lunchtime!
Enjoy tasty treats
Prefer to put your culinary talents to work inside the kitchen? You can create festive Fourth of July concoctions that your family and friends will love! For a cool and sweet treat, a strawberry smoothie topped with whipped cream and blueberry pieces will be sure to please guests' taste buds and patriotic spirit. You can also set up an American flag fruit salad by arranging blueberries, watermelon pieces and feta cheese in the shape of Old Glory.
Pack a picnic
If you're headed outdoors to view the fireworks in person, why not pack a picnic before you head out? This is a great use of all those leftovers you'll be sure to have from the day's festivities.
Do DIY decorating
DIY decorations are especially fun among young kids. Let them try their hands at unique projects such as a red, white and blue star garland to hang on the counter, repurposed flower pots and old cans painted in patriotic colors, or homemade confetti poppers to set off with the fireworks.
Play colonial games
They may not be the modern, high-tech activities we're used to, but colonial games offer just as much fun and enjoyment! Target games with clay marbles were popular back in the day, as was hopscotch (then called scotch hopping), jump rope, and hoop rolling. These games will provide plenty of fun and laughs, while giving the kids a glimpse at what colonial life was really like.
Drum around
Kids love to make noise—and fortunately, there are few better times to do it than on the Fourth of July. Help them create handmade drums using empty cans (the kind that holds coffee, soup, sauce etc.) with balloons stretched over the top. That's the drum—now all that's left is decorating it in red, white and blue paint or construction paper!
Put a cap on it
You and your family can assemble crafty caps using construction paper, tape, and a little creativity. You can create a Lady Liberty crown, for example, or a festive red, white and blue hat with stars attached to pipe cleaners.
We hope that these ideas make your Fourth of July celebration a truly special one. Let us know how you plan to spend the big day below!