Sun, Jun 26, 2016 at 11:05AM
---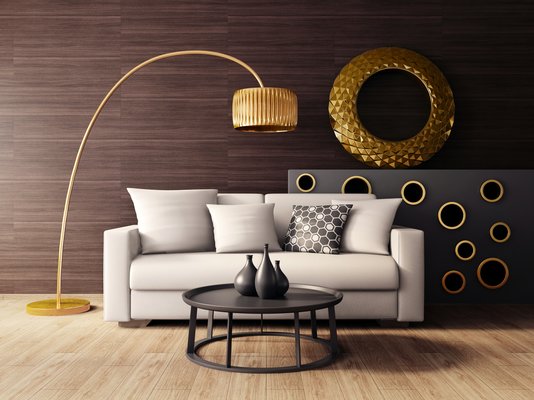 This summer, all eyes are on the US athletes to bring home gold medals in swimming, soccer, gymnastics and more—but closer to home, we have a different kind of gold on our mind: gold accents for the home! Adding subtle touches of gold in your home's living space can create a warm and luxurious feeling. In today's blog, we're looking at seven ways to add this fun metallic touch.
Pillows
Pillows are among some of the best spots to put your accent color due to their size and subtlety—so it's no surprise that a touch of gold would look great on them, too! You can't go wrong with a sparkly white-and-gold pillow, or even a pillow that's completely covered in gold sequins for an extra bold pop of color. These pillows work great in bedrooms or in living spaces that need some warming-up.
Lighting fixtures
If you're looking for a bold lighting fixture to add boldness and warmth to your living space, try out a decorative gold piece that hangs from the ceiling (or sits on your table) and "wows" guests as they come in.
Picture frames
Your gold picture frame doesn't have to be overly ornate or traditional—in fact, sometimes the best use of gold is in simple, minimalist lines around your favorite family photos.
Bathroom hardware
If you're looking for ways to switch up your bathroom, but aren't quite ready to pursue a full-blown renovation, consider trying gold bathroom hardware and accessories. Gold wish mesh well with many different bathroom designs, but works especially well against a cool white backdrop.
Knickknacks and figurines
We're seeing a rise in popularity of small gold knickknacks and figurines—everything from animal-shaped ring holders that sit on your dresser to decorative candles in the bathroom. If you want to add a touch of gold to your space, but don't want to completely overpower your current design scheme, you can't go wrong with these small items.
Mirrors and wall décor
Add some warmth and excitement to a space by putting gold on the wall in the form of a large, decorative mirror or piece of abstract art.
Coffee table touches
Your coffee table anchors your living space, so deck it out in accents and pieces that you love. A gold tray or decorative bowl will add visual interest to your table while still serving a functional purpose.
Which of these "golden" ideas are you most looking forward to trying out in your home? Let us know! And remember, while these gold accents will look great during the summer, their appeal will last throughout the year.