Mon, Nov 07, 2016 at 3:29PM
---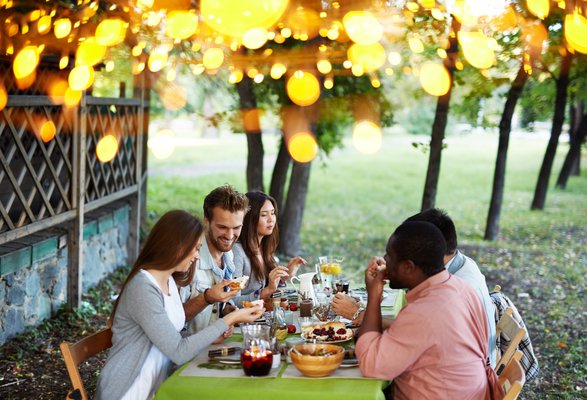 Here in Lake County, cool weather is finally here! If you're like us, you're itching to use your outdoor patio space for family dinners, impromptu get-togethers and just about any other occasion you might have on the calendar.
If you're looking for ways to craft an outdoor space perfect for any kind of event, we've got you covered with easy ideas in today's blog.
For big family dinners…
When you're hosting lots of people for dinner, your best bet is to take advantage of the natural space of your patio or backyard. If your patio table doesn't do the trick, you can use folding tables to add a convenient spot for everyone to sit—a long table for narrower spaces, or a cluster of smaller, circular ones for square backyards.
The key here is, of course, to give everyone a chance to sit down and enjoy some homemade cooking. Of That doesn't mean you can't dress up the space with twinkling string lights and, of course, a comfy patio armchair for after dinner!
For holiday parties…
Since holiday parties typically won't require a full-on feast, feel free to use your available outdoor table or counter space as serving spots for your homemade punch or trays of cookies, chips and other goodies.
Of course, when it comes to holiday parties, ambiance is everything! Play your favorite holiday season tunes over your outdoor speakers. String up lights under your awning or pergola, and add holiday yard stake decorations to the ground for a quick, easy update to the space.
For casual family fun…
Just enjoying a simple day with the family? Whether you're enjoying coffee outside, sharing a snack or roasting marshmallows over your fire pit, try arranging your outdoor furniture in a way that makes sense for the activity you're doing—you can arrange your sofa and chairs in a semicircle around the fire, for example, to give everyone a chance to warm up.
We hope that these ideas help turn your porch or patio into the center of fun and family this season! Let us know what your own favorite outdoor ideas are in the comment section below.