Mon, May 02, 2016 at 12:00PM
---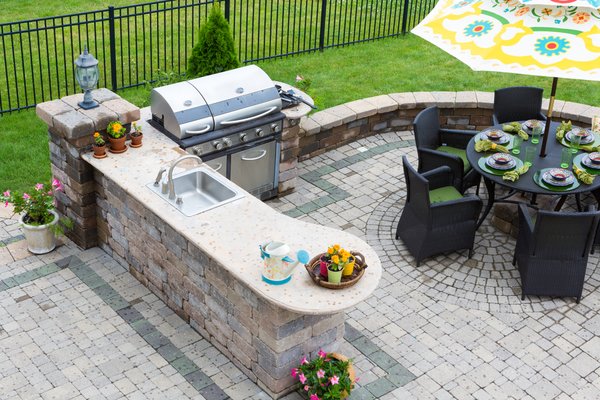 Summer is on its way, and with it comes the simple pleasure that is outdoor—or al fresco—dining! We all love enjoying snacks, drinks and meals outdoors, and this season is the perfect time to try it out if you haven't already.

In today's blog, we will be sharing a quick summer guide to maximizing your outdoor dining space and experience.

Know your needs

When creating the perfect place for outdoor dining, it's key to know your needs and preferences as a family. Do you hope to eat outdoors several nights out of the week? An outdoor kitchen and designated outdoor dining table might be perfect for you. On the other hand, you might enjoy outdoor dining and entertaining but don't plan to do it more than a couple times a month. In this case, something smaller like an outdoor wet bar might work a bit better. By knowing your specific wants and needs for outdoor dining, you can create a space that works for you.

Upgrade your patio furniture

No matter how simple or elaborate you want your outdoor dining space to be, comfortable and functional furniture is a must. Your family and guests will appreciate the extra attention to quality materials, and your space will feel more like an extension of your kitchen and living space than a separate spot altogether.

Compromise with one or two select features

If you're not able to pursue a large-scale project, don't worry—you can still create a cozy, functional outdoor dining space with one or two select features! This might be an outdoor pizza oven or a fire pit that's perfect for s'mores and summer nights of socializing.

Stay well-stocked

The best outdoor kitchen or dining space is the one that's well-stocked with treats and drinks for all. If you have an outdoor fridge, it's worth stocking up with your favorite refreshments so that you and your guests don't have to run in and out of the house throughout your dinners or get togethers.

Make outdoor dining a breeze

Of course, for those times when you do need to head back into the house, you can make the process a simpler one by adding a walk-through, or magnetic, screen to your outdoor entryway. This type of screen allows you to keep your door open without letting in bugs or outdoor debris, and provides everyone with a simple way to enter or exit the home. Whenever someone walks through the screen, it simply pulls apart to accommodate them and then returns to its closed position—so you can enjoy hands-free, easy maneuvers outdoors without constantly opening and closing the door.

We hope that these ideas help you transform your outdoor space into one that's food-friendly and pleasant to spend time in. In addition to adding to your family's comfort, some of these ideas can even increase the value of your home!