Mon, Dec 05, 2016 at 1:40PM
---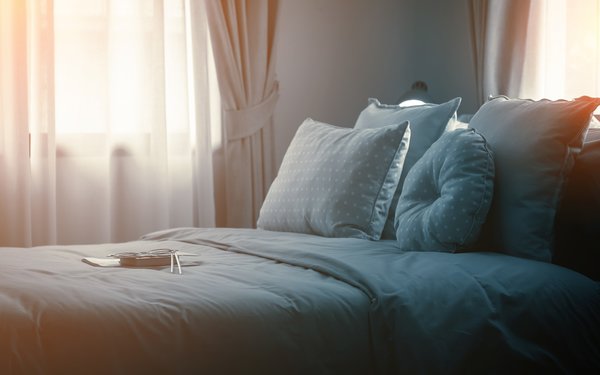 Your bedroom is where you start and end the day, where you dream up your best ideas and savor the laidback nature of a weekend morning. It's where you recharge and prepare for whatever lies ahead. For a room that serves so many key purposes, your bedroom deserves to be as close to perfect as possible!
If you're looking for a way to switch up your bedroom and better it for the New Year, take a look at our four simple tips below.
Let the light in
Blackout curtains definitely have their place—they make afternoon naps a little better, and can make your room feel cooler on warm days. But when it comes to making your space feel newer, cleaner, and brighter, one of the best and easiest things to do is start letting the light in. Draw open your drapes and showcase your beautiful outdoor view for a bit of mental inspiration and the warmth and comfort of natural light.
Know the needs of your space
As is the case with every room in your home, your bedroom might serve more purposes than one. If it's solely your relaxing retreat for a night's worth of rest, keep distractions minimal by making it an electronic-free zone. If your bedroom doubles as a home office or study, however, you can benefit from using furniture pieces that serve a dual purpose, too. A vanity can serve as a handy desk for your laptop when you need to work, for example, without taking up extra space. If you have a large-enough room, you can use wallpaper or an accent wall to differentiate a work zone from the rest of your space.
Consider a change of layout
You might need to invest in a new décor scheme or big-ticket furniture items to improve your bedroom—but then again, you might not! Before pursuing a large-scale improvement project, try making small changes that will impact your room in a big way. Switch around your furniture so that your bed sits by a new wall, for example, or make your room a little less symmetrical. You might find that these small alterations make your room feel fresh and new for the year ahead.
Invest in comfort
If there's one key thing to invest in for the year ahead, it's comfort! You spend a third of your life (give or take) sleeping, so make sure your bedroom is a spot you feel relaxed and comfortable in. You can do this by investing in a new mattress, especially if yours is nearing the eight-year mark, or layering your bed in your favorite quilts and plush throw blankets.
Comfort, of course, extends beyond the bed, too. Wireless speakers will let you play your favorite wind-down music at a volume that works for you, without ever having to get out of bed.
We hope that these tips help you craft a bedroom space you love!