Fri, Apr 02, 2021 at 10:25AM
---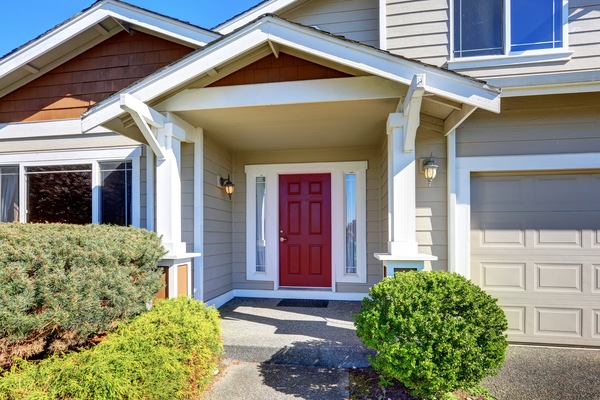 If you're looking to steer away from bland decor and cookie-cutter style, there are some tips and tricks you can tackle to stand out – and the front door is a great place to start! This is a spot at your Central Florida home that many people will see, from guests being welcomed in to passersby on the street to realtors opening it up to potential buyers. Read on for 4 fun, unique and tasteful ideas for your front door!
Window Panels
Instead of a solid door, opting for some usage of windows on your door is a great way to pull in some natural light and make your home feel more inviting. Whether it's smaller panels or a more allover window approach, we think windows are a great way to add some personality to your front door!
A Bold Color
This is probably a more simple way to up your front door game, but it's popular for a reason. Head over to your local home improvement store and grab a bold paint color and get to work! Choosing a unique color for your door is a great way to make a statement. There are a few things to keep in mind when choosing the bold color of your door, though. Think about what color will stand out but also flow with the style of your home as well as what your Homeowners Association's rules on door colors are. Popular choices include red, navy, teal, or even yellow.
Statement Knobs or Handles
Grab ahold of this unique approach – statement handles and knobs! Whether it's a top-to-bottom statement pull handle or an intricately designed doorknob – this is a great way to have some fun with your door. It's also a relatively simple way to up your front door game since you can typically reinstall door handles and knobs yourself. Try a quick YouTube tutorial are talk to an employee at the hardware store to gain some extra insight!
Metal Designs
An interesting option for your front door is implementing some metalwork into the design. This is often paired with a glass base and is pretty popular for Mediterranean-style homes – but not exclusive to them. Usually, the metal is worked into a floral or natural pattern and promotes an inviting approach while still providing a little more privacy than just the glass.
If one thing's for sure, it's that you can absolutely make a statement with your front door. The outside of your house exterior is typically the first impression people get of your home, so paying attention to the details really counts if you're looking to make a great first impression. The fun thing about the front door style is that you can probably change it up every now and then pretty easily – just make sure you're following the Homeowners Association rules. And if you're ready to buy or sell your home – fancy front door or not – give our experts a call today and we will be happy to help you along the journey!