Mon, Oct 31, 2016 at 5:00PM
---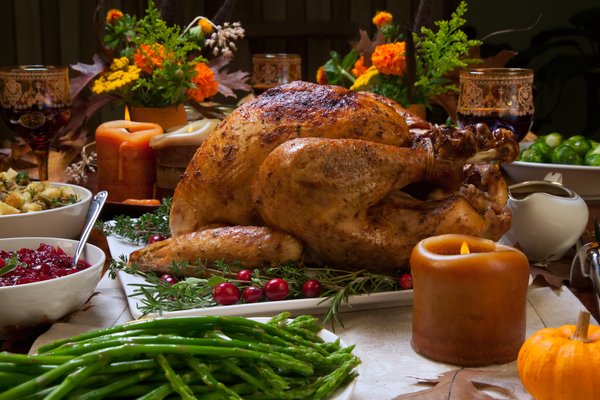 Happy Thanksgiving! With everyone's favorite fall holiday finally on its way, we know you're probably searching for ways to make the dinner extra special. In today's blog, we will be taking a look at some festive serving ideas that won't take time away from what you love most—food, fun and family!
Embrace the buffet
Family dinners can get messy—so don't feel the need to stick to the perfectly adorned tables and place settings you see on TV. If you're cooking for lots of people, why not go the buffet route? This no-fuss option lets you cook everyone's favorite dishes just the way you like, but lets you keep plenty of space on your table for drinks, plates, and, of course, the occasional elbow. It also lets those with special diets or preferences pick out their own foods without you having to worry about what they can or can't have.
Serve mini cornucopias as a pre-dinner snack
For a fun way to hold over everyone's appetite until dinner, serve up mini cornucopias as a deliciously sweet snack. To do this, you'll only need sugar ice cream cones and a few of your favorite mini treats (like pretzels, chocolate candies, candy corn, etc.). Fill up the "cornucopia" with these treats and serve on plates to hungry guests. They will appreciate the snack, but will love the thought that went into making it even more. These mini cornucopias are almost too precious to eat, so be sure to snap a picture before you do!
Use elevated serving trays to extend your usable space
If you're famous for serving up a variety of foods and sides on Thanksgiving, cut down on tabletop clutter by using elevated serving trays. This will give you a bit more space to work with (and, as a bonus, guests won't have to worry about their shirt sleeves brushing into your homemade mashed potatoes!).
Let guests make their own meal with small, handy condiment containers
Using small, individual condiment containers can help keep table messes to a minimum. On Thanksgiving, the most important condiment is, of course, the gravy—so consider picking up a few personal gravy boats which are meant to serve on person. Not only are they cute to look at—they make enjoying your dinner more effortless than ever.
Turn place cards and party favors functional
For a fun way to mark everyone's spot at the table, try turning your place cards and party favors into part of the meal itself. You can add a ribbon tag to a mason jar to label it with someone's name, then affix a chalkboard label to it and give guests a chance to write down what they're most thankful for. Not only is this a fun, meaningful way to mark everyone's spot at the table—you can use these jars as drink cups or serving containers for a pre-dinner snack, like chips or trail mix.
Which of these serving ideas do you plan to try this Thanksgiving? Let us know, and share your own go-to methods with us below.