Fri, Nov 03, 2017 at 11:20AM
---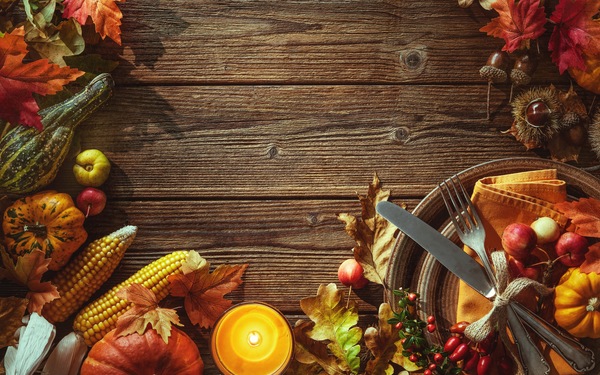 With the holiday season upon us, you've no doubt got food on your mind. Who could resist those scrumptious pies, pastries, and comfort food classics like turkey and mashed potatoes?
All those delicious flavors deserve to shine, with place settings that provide the ultimate backdrop (and add to the fun, family flair of the holiday!). Take a look below as we share some of our favorite place setting ideas for your upcoming dinner.
Pilgrim hat place cards
It is Thanksgiving, after all! Kids and adults alike will love this simple place card idea, which involves attaching a cardstock gold buckle to a black plastic cup, then writing out the guest's name with marker or puffy paint. Next, add a cardstock brim to complete the look! The result is a pilgrim hat place holder that's as timely as it is fun to look at, and it can double as a party favor to bring home. For your presentation, you can even hide little treats like peppermint or chocolate candies beneath the hat, so when guests lift it up they are treated to a doubly-good surprise!
Skip the centerpiece… for something even better
Beautiful, ornate centerpieces are fun—but for crowded dinner tables, they might not always be worth the trouble. In these cases, you can provide each guest with a little mini-sized flourish (a small flower arrangement, a candle to take home, etc.) or make a traditional centerpiece setup more functional. Instead of filling up your cornucopia basket with fake leaves, fruits and veggies, for example, laden it with your favorite cake pops or real sides and snacks guests can enjoy before the meal.
Make your place settings interactive
Why not make your place settings interactive, providing chalkboard-painted placemats and a few bits of chalk that guests can doodle on and play games with? If you prefer more casual, laidback dinners, this is a perfect fun-friendly solution—plus, it ensures that guests won't even be tempted to take out their phones and pass the time. Who could resist some old-fashioned word games or picture charades?
Opt for pretty pumpkins
This place card idea is as simple as it is seasonally appropriate! Take a bunch of small pumpkins (you can probably still find them at the grocery store), then affix a name tag and place it on the table for each guest. You are, of course, free to add your own decorative flourishes—maybe dip the pumpkins in glitter, or add colorful polka dots to each one?
Usher in Christmastime
Just can't wait for the holidays to get here? Some families like to blend Christmas fun with their Thanksgiving traditions—and if yours is one such family, you can add a simple sign of the season by sticking place cards into the top part of decorative ornaments. It's quick, easy, and a sure way to elicit ample holiday cheer all around the table.
With ideas like these, your food can be as fun as it is delicious to eat. We hope that these ideas help you enjoy the ultimate family dinner, all season long!