Fri, Oct 30, 2020 at 7:27PM
---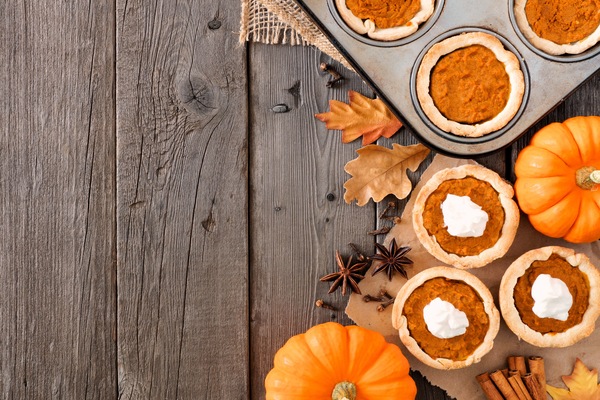 Happy Thanksgiving! This year, we are more thankful than ever for family, friends, good food—and you! We want to help you plan the perfect celebration, so here are a few fun ideas you can try from your Lake County home. Take a look.
Take the fun outdoors
With the weather just right—beautifully crisp and blue-skied—an outdoor Thanksgiving lunch or dinner may be one fun way to switch up your holiday routine! It can also be a safer way to gather with friends and family while keeping a comfortable distance.
Even if you don't hold your actual dinner outdoors, you can still enjoy some beautiful fall weather! Take a pre-dinner stroll around one of our gorgeous lakes or enjoy backyard fun and games the whole family will enjoy.
Try a fresh spin on a sweet staple
Looking for a fun way to mix up your favorite Thanksgiving sweets like pumpkin or apple pie? Personalized pies can be made using all of the same ingredients from your go-to recipe, simply portioned into a cupcake pan for effortless, bite-sized treats that are easy to share!
Consider recipe party favors
This year, many of us have been doing more cooking and baking for fun—so why not share a favorite recipe or two as a party favor, printed onto festive cardstock or paired with a mason jar of ingredients for a sweet treat? This is an especially warm gesture for family members you may not have had the chance to see in a while, who will undoubtedly enjoy the touch of homey goodness.
Warmly welcome virtual guests
If you have family members who can't share in the Thanksgiving celebration in person, be sure to invite them virtually! You can even place a laptop or tablet on the table to help them feel fully immersed as you dig in (that's right—this year, the traditional "no-electronics-at-the-table" rule may be bent for the purpose of connection).
Remix your Black Friday routine
The hustle and bustle of Black Friday may look a little different this year. Why not start a new Black Friday tradition by visiting one of Lake County's many small businesses? Just call ahead to see who will be open, and come by for your chance to bring home truly one-of-a-kind treasures for everyone on your list. This can also be a day of rest and relaxation as everyone unwinds from yesterday's delicious dinner—watch a holiday movie marathon, craft homemade gifts and goodies, the options are truly endless.
We hope that these ideas help you plan a Thanksgiving celebration to remember! From our family to yours, we wish you a very happy Thanksgiving and holiday season to follow.