Wed, Apr 04, 2018 at 11:35AM
---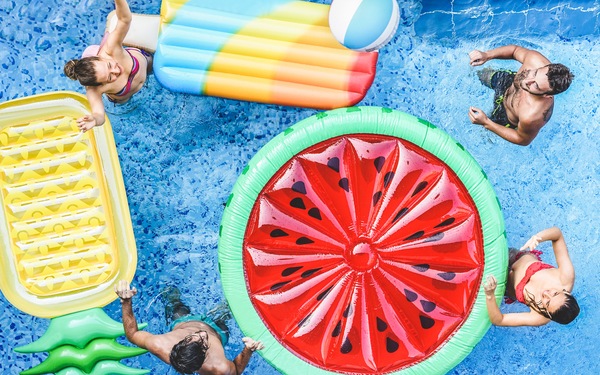 Florida may be the global vacation destination—but when you have a backyard pool, every day can feel like a getaway.
The good news? When it comes time to sell your home, potential buyers probably see it the same way. Pools are popular additions to homes in Florida and similar states, like California, where the water can be enjoyed year-round—according to Investopedia, a pool can add around 11 percent to your home's value here. Plus, a pool comes with another big benefit: the ability to compete with similar pool homes in your area.
As we head into the hottest months of the year, the key is to prepare your space and remember that buyers might just have swimming on their mind. Whether you're selling or simply want to spruce up your space, embrace these simple, on-trend tips:
Float fun
For a classic, easy way to add more fun (and visual interest) to your space, opt for floats! Whether they're tubes or silly shapes, these inflatables are sure to spruce up the swimming experience. For a cool, cohesive feel, stick to a similar theme through your floats. For example, you can create a sporty backyard pool by adding an inflatable volleyball net and basketball hoop—which are each sure to add hours of activity to your pool day fun. Or add a trio of animals or even food-shaped floats for a quirky thematic touch.
Soak in the shade
Adding shade when and where it's needed can help extend your swimming and poolside lounging hours by a lot—especially during those hot, sunny spring and summer days. Flexible shade options (like retractable awnings, overhead or a classic patio umbrella) can help make switching between sun and shade a breeze.
Customize the swimming experience
Ironically, to make your swimming experience even "cooler" and easier to enjoy, you might want to heat up the water! By warming up your water by way of an automated heated system, you'll be able to count on warm, pleasant swim-friendly water temps throughout the year—and won't need to worry about a stray 50 or 60-degree day, the likes of which we sometimes see throughout spring, cooling down your pool.
Try submerged seating
Submerged seating via a wet shelf (a drop-off of less than a foot, where you can place chairs and a table without going totally underwater) makes your pool stand out, and can help you enjoy the best of the warm weather on land, and the cool, refreshing touch of the pool. Another great option is an underwater bench that runs along one side of your pool, where guests can swim up to and grab a bite or simply relax.
Reimagine the resort pool
Imagine your favorite resort pool. While many getaway destinations feature elaborate rock formations, waterfalls and other touches that make for a truly immersive experience, you can accomplish much of the same effect at home with a few key changes. Switch out your towels for ultra-plush, luxurious linens—it might seem like a small change, but it's worth it, especially when you can't wait to get warm after a dip in the pool! Warm ambient lighting (such as tiki torches) is another way to bring a cozy, resort-style feel to your space, as is a custom playlist of music played through your outdoor speakers (pick a retro, rock or island-inspired set of songs—whatever goes with your desired theme!).
While these additions are sure to make your time in the water that much better, they're just accessories, of course, to the main attraction: a pool of your own! If you're in search of a home with a built-in pool in Lake County or are selling your current home, call our office today and we'll help get you on the right track.