Wed, Mar 07, 2018 at 1:05PM
---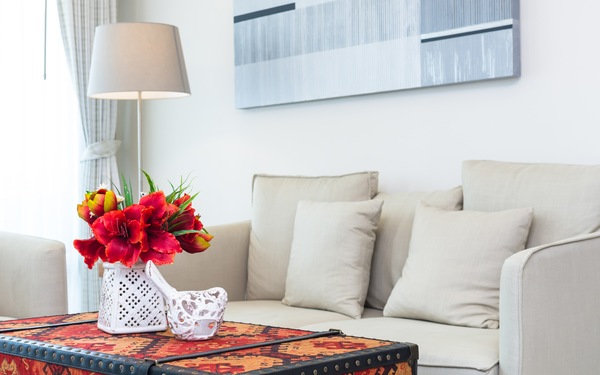 It's spring cleaning season! But for many people, it's home-selling season, too. Fortunately, it's easy to prepare for both when you stage your space and tidy up at the same time.
Just read on for a few simple ways to do it!
Out with the old
When it comes to spring cleaning and staging your space, there's one key step to follow at the start: get rid of old, unnecessary items taking up space. This is a good preliminary move, since it's hard to focus on the more minute details when old clothes or unwanted furniture are in the way. Take some time with the family to sort out items you don't necessarily need to keep (a good rule of thumb is to ask yourself whether you've used the items in the last six months—if you haven't, you probably won't use it in the next six, either).
Clearing away old items isn't just a functional move. It can help your home feel more neat, spacious and attractive to buyers, too.
Shine a light on easy-to-miss spots
From baseboards to pesky corners, dust and dirt seem to collect in the spots we're most likely to miss. To combat this issue, open up your blinds, turn on the lights, and really examine these potential problem areas. It's a helpful spring cleaning step, but also a great one for staging your space—after all, you don't want to realize you missed a spot right as potential buyers are walking through the door!
Make simple repairs
Sometimes, the simplest fixes really make all the difference. Since it's springtime and you want to spruce up your space with fresh air, ensure that your windows and screens are working well. The same goes for sliding glass doors, squeaky cabinets, and other subtle (but impactful) spots. You'll enjoy the benefit of well-functioning hardware, as will home shoppers!
Amp up the outdoors
We are in Florida, after all! A key selling point of your home might be its beautiful veranda, patio or pool area. Play up these spots and help them shine, whether that means giving the outdoor floor a quick sweep or swapping out old sofa cushions for bright, new ones. If you don't have a pool cleaner, now would be a great time to arrange to have your pool cleaned (or at least skim the surface) so that the water looks fresh, cool and fun.
Compile clutter
What are you to do with any leftover clutter? To spruce up your space for spring and make it more palatable for shoppers, use simple, sophisticated ways to round up inevitable clutter (like mail, dog toys, and whatever else you may have). An ottoman with hidden storage might do just the trick, or a decorative coffee table box that doubles as a mail/TV remote wrangler.
This March, knock out your spring cleaning and, along the way, create a picture-perfect home buyers will love! We hope that today's blog helps you accomplish just that—and, if you have any questions about the staging or selling process, be sure to call our office today and we'll be happy to help.