Thu, Mar 29, 2018 at 9:15AM
---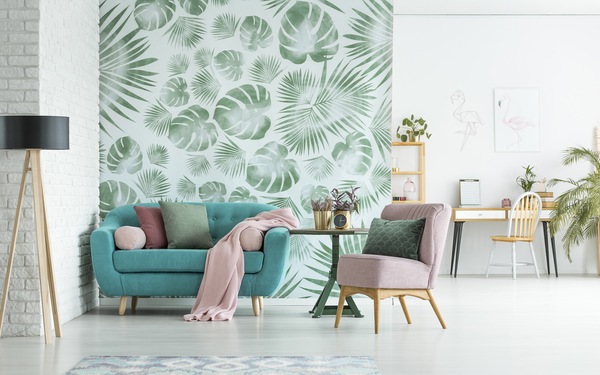 As you hop into Easter weekend fun, take a look at the colors that surround you—the baby blue eggs, powder-pink bunnies and soft yellow marshmallow candies.
These pastels are quintessential parts of the springtime holiday… but they can inspire beautiful home décor all year long, too! Read on and see how, as we share ten of our favorite ways to use pastels in your Lake County home.
Go for a big change…
One of the biggest changes you can make? Paint your home's exterior an all new, bright, pastel color!
It's a big switch, and maybe one that warrants some discussion. But keep this in mind—you won't be alone. Much of "Old Florida" design, as well as southern spots like the Florida Keys, is characterized by architecture that's decked out in these fun, festive colors. It's a way to switch things up and embrace some of your state's identity as you do it!
… or a statement switch
If such a sweeping change isn't in the cards for you, consider making a change to statement spots—painting your front door a warm, friendly yellow, for example.
Sweeten up your workspace
Sometimes, we surround ourselves with decorative styles that are just too serious. When you could use a bit of a playful pop, try adding it via pastel-colored décor and accessories in your home's office or workspace.
Add candy-colored accents
Another easy, no-fuss way to add a pastel pop? Incorporate it with pillows, throw blankets, wall hangings and other accents.
Layer different shades and textures
Pastel can be a little overwhelming for first-time decorators, but consider this: not every "light pink" is quite the same. Have fun layering different shades (so as to achieve a depth effect, not a one-color wash) as well as different textures. You might find that the idea of pastel isn't so intimidating, after all!
Opt for fresh color combos
If you associate pastel hues with kids' rooms or Easter and Easter alone, try shaking up your preconceptions with fresh color combos. Baby pink might be a familiar hue, but next to a rich magenta or black-and-white stripes it takes on an all new personality.
Pull from the great outdoors
If you have a beautiful outdoor view you'd like to showcase, surround the room that overlooks it (your kitchen to your pool, your bedroom to your backyard, etc.) with pastel touches that pull from the natural scenery.
Warm up a cool, modern room
Make pastel unexpected. Use it in a cool, modern space (maybe an all-white setting) where the introduction of a pastel pink or yellow mixes things up and adds some visual interest.
Bring in a bouquet
An effortless way to bring in pastel hues is via fresh flowers. A sleek, beautiful orchid, for example, comes in a variety of colors (including playful purples), and would add a unique statement to your space.
Deck out small spaces
Before painting your entire living room or bedroom, try decking out a small space into a fun, playful, pastel color: perhaps your powder room, closet or kitchen backsplash. Pops of color in these area work, because they add a visual surprise without ever being overpowering or "too sweet."
What's your favorite way to use pastels in your home's décor? Let us know below!