Sun, Aug 28, 2016 at 12:25PM
---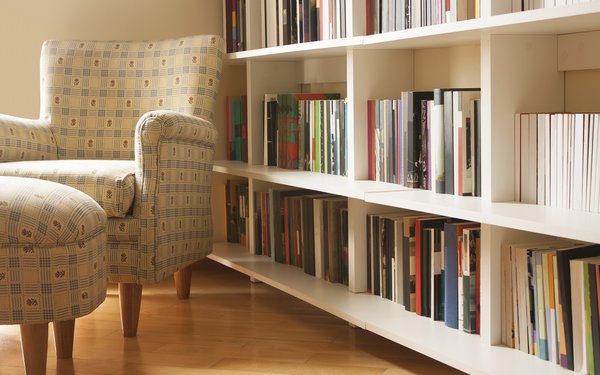 Sometimes, you don't need to make a major change to make your space feel completely transformed. If you're looking for a fun, simple way to switch up the look of your space, try rearranging your bookshelf! The order of your books on the shelf can result in a number of effects—from whimsical to minimalist and everything in between—and in today's blog, we will be looking at seven arrangements to consider for your own home.
Bright rainbow of books…
One of the simplest (and, of course, most vivid) ways to organize your books is to line them up like a rainbow. It's a unique visual effect that works just about anywhere, but especially in playful spots like kids' rooms or play spaces. You can do this shelf by shelf, dedicating a shelf to red books, a shelf to orange, and so on, or laterally, creating a rainbow gradient from one side of your shelf to the other.
…or unique bursts of color
If you want to incorporate color into your space in another fun way, try adding bursts of color to your bookshelf. You can do this by using bold colors sparingly (by including bold bursts of color against an otherwise white or neutral backdrop of books), or by filling up an entire shelf with books of the same color. This can work especially well in themed spaces, like a girl's princess-themed bedroom that's decked out in pink.
Minimalist look
If you prefer a light, minimalist look for your space, consider applying that to your bookshelves by clustering books (as opposed to filling up entire shelves back to back) and using few, if any, big knick-knacks or décor pieces.
Knick-knack heavy
On the other hand, you might be someone who loves to show off a variety of knick-knacks and special mementos—if so, add them to your bookshelf in a big way! Balance out your books with your favorite mugs, miniature globes, figurines and just about anything else you want to display with pride.
Inventive bookends
Unless your shelf is packed back to back with books, you'll likely want to use a pair (or pairs) of bookends to keep them all standing straight. You don't have to stick with traditional bookends, however—pick up bookends with flair that show your personality and design style. They can be shaped like stones, for example, or like two ends of a dog figure. You can also use heavy-weighted décor pieces like letters, word art and more to keep your books upright.
Stack it up
For a less traditional approach, try stacking up clusters of books on your shelf (as opposed to lining them up laterally). This is an especially helpful method with big books that can't stand up anyway. The vertical stacking effect is one that will add visual interest to your shelf.
A splash of color for the back of your bookshelf
Once you've settled on an arrangement for the books themselves, consider painting or wallpapering the back wall of the bookshelf to create a unique, pleasant backdrop for all of your titles and décor pieces. This works great in built-in shelves, as well as moveable pieces you add to your room.
Which of these arrangements do you plan to try in your own home? Be sure to let us know!