Thu, Sep 01, 2016 at 9:00AM
---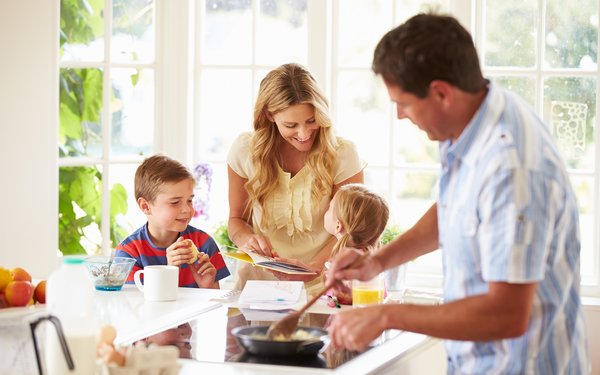 Breakfast is often regarded as the most important meal of the day—so if your breakfasts aren't quite up to par, this is your chance to change them for the better! September is Better Breakfast Month, a time for you and your family to sit down and enjoy a quality meal together with ease and enjoyment… even on a busy weekday morning.
Take a look at our ideas for enjoying a better breakfast below.
Warm up your home with a hot breakfast side
On busy weekday mornings, most family members are probably struggling to roll out of bed. If you happen to be up early, consider warming up your space and sending a sweet aroma through your home by cooking something fresh—it can be anything from premade grocery store biscuits, to your favorite homemade bread recipe. The combination of warmth and a pleasant scent will be enough to perk up even the sleepiest family members.
Fuel up with protein
Everyone at the table can benefit from a serving of protein, so pick your favorite and enjoy! Some great sources of protein include yogurt, cheese, nuts and, of course, the all-time breakfast favorite of eggs—so there's sure to be something for everyone. Finally, you can double up by mixing shredded cheese into your morning omelet, or by topping off a cup of yogurt with nuts and other tasty toppings.
Think ahead with to-go options for busy mornings
If you know you have a busy morning ahead of you, try preparing a few easy options the night before. You can blend a smoothie the night before and pack it into to-go cups the next morning, or enjoy a quick mix of yogurt, granola and fruit in a jar for your own personal parfait. If the whole family is bound to be running late, a small assembly line on your counter with these ingredients will let everyone prepare their food to go.
Add fun to your food
No matter what's on the menu, there's plenty of time for family fun and togetherness over breakfast—even when you're in a hurry. Have the kids decorate their waffles with fruit-and-syrup funny faces, for example, or have everyone take turns sharing what they're most excited for with the day ahead. These don't have to be lengthy conversations—but they're still sure to make your breakfast rush a little more pleasant!
The right breakfast—complete with great food and even better company—has the power to fuel the rest of your day, so be sure to enjoy yours to the fullest!