Tue, Mar 10, 2015 at 9:05AM
---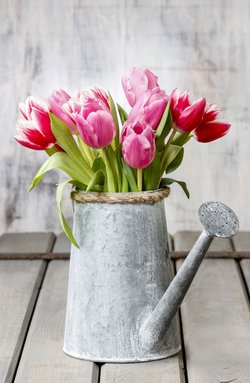 Spring is a beautiful time of the year, we do spring cleaning and gardening, and switch out our décor. We have some ideas to help you get a jump start on spring décor.
Glass Vases. You can do just about anything with glass vases. Fill your vase up with fake eggs and "easter grass" from the arts and crafts store to add a little fun to your easter festivities. Get creative with your vases; you can put a smaller case inside a big vase and fill the large one with jelly beans and the smaller one with flowers. Just adding colorful tulips to your vase will brighten up your Mount Dora home!
Outside Décor. Find a cute fake (or antique) watering can and fill it with colorful flowers. If you're a rabbit fan, visit Pier 1 Imports or Home Goods for a cute outdoor rabbit figurines. For minimal effort, purchase a yard stake with your favorite seasonal item or hang a springtime flag in your front yard.
Wreathes. Wreathes are not just for Christmas time! Create a wreath out of just about anything you have! Etsy has some really beautiful wreathes made out of tulips in different shades of pink and white. Cut out little chicks out of construction paper for a wreathe of colorful chicks! Search pinterest for a little inspiration!
Guest Room. Adding shades of blue, pink, green, and yellow to your guest rooms and bathrooms is an easy way to get your home ready for spring. Spring season emphasizes the cooler and softer side of the color spectrum. You can add bold colors as an accent to your décor if you like the bold colors. Spring is not just about pastel colors. Mix it up!
Flowers. Spring is a beautiful time for flowers! This cooler weather is a perfect time to have pansies out in your garden or in your vase. Another pretty springtime flower are bloodroots. These white flowers are perfect for a woorland garden. A popular flower for springtime is Lilac. The fragrance of lilac is so sweet, it's a perfect flower to plant in the spring. Other springtime flowers include Iris, Grape Hyacinth, Crocus, Daffodils, Puschkinias, Double Rock Roses, Azaleas, and of course the popularTulips.
Ready to take on spring? Get creative! But most importantly, have fun! Spring is a time for happiness and laughter. And adding colorful tulips to just about anything can spruce up your home décor!