Fri, May 27, 2016 at 1:00PM
---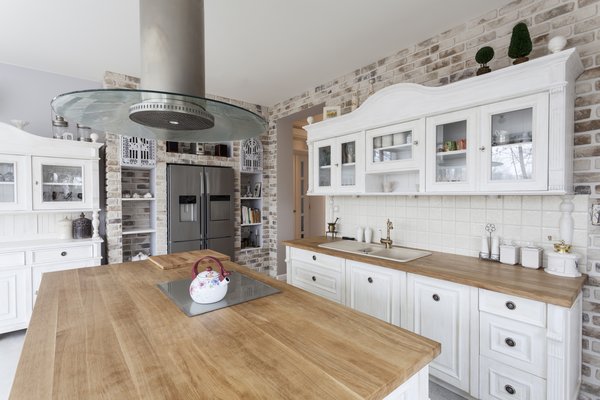 In today's blog, we will be sharing a few of our favorite backsplash ideas worth trying this summer.
Chalkboard paint
Chalkboard paint on your backsplash won't just add a fun, whimsical flair to your kitchen space—it will serve an important purpose, too! We love chalkboard paint because of its functionality. You and your family members can simply jot down shopping list items or calendar reminders during everyday kitchen tasks… and, of course, there's always plenty of room for inspirational quotes and fun doodles, too.
Photo tiles
If you're running out of wall or fridge space for your precious family photos, put them on your backsplash! Many companies, both on and offline, will turn your special photos into ceramic tiles you can arrange on your backsplash. This is an inventive, elegant way to display those moments you care so much about, all while adding a feeling of family to your kitchen space.
Pebbly splash
A stone or pebble backsplash is a simple, natural touch that blends well with many kitchen design schemes. In many cases, you'll be able to complete this backsplash on your own by simply affixing the pebbles to your backsplash space.
Blown-up photo
For a larger-than-life statement on your backsplash, a blown-up photo—of your family, a favorite travel destination, or just about anything else—can be pasted to your backsplash.
Peek-through backsplash
Depending on your home's structure, you may be able to create a peek-through backsplash that replaces tiles, stone or paint with a view of the outdoors or another part of your home. While replacing your traditional backsplash with a window or open pass-through may require a bit of structural work, it's certainly a feature your friends and family will admire.
Worldly touch
Are you a world traveler? Consider using a world or local map as your kitchen backsplash and add push pins to the places you've been. For a more modern touch, you can even use a blown-up subway map or similar image as your backsplash.
Corkboard
A corkboard backsplash will mesh well with many kitchen spaces, and it will allow you to pin up photos, reminders, ticket stubs and more in an easily-seen space. To add a decorative touch to your corkboard backsplash, you can always frame it with wood or tiles.
Which of these backsplashes are you most excited about trying in the months ahead? Let us know below!