Wed, Jan 03, 2018 at 10:24AM
---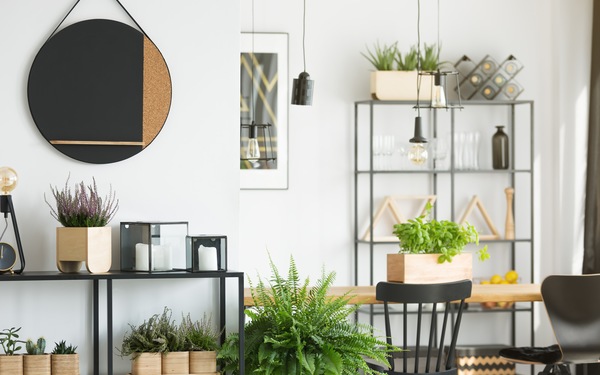 What's 2018 look like for interior design? Richly-hued with a delicate balance between luxury and natural touches.
2018 is upon us and the top decorators have spoken—this is set to be an exciting year of design. Read on to see what trends await in the year ahead!
Free, curved edges
While sleek, angular edges certainly add a modern element to your home's design, 2018 is set to focus on something a little more natural: free, curved edges that reflect natural surfaces and add an authentic atmosphere to your space. Curved lines add an element of fun, preventing your home design from taking itself too seriously.
That isn't to say you should toss out all your modern pieces—your accent rugs and art deco-inspired lamps. These sleek, modern touches can balance out your design for a space that's truly well-rounded (literally!).
A new take on nature
Speaking of natural elements, they're set to come back into the home in an interesting way. Instead of simply adding houseplants and natural prints, designers expect to see these natural accents reflect the real-world surroundings of your unique home and locale. So here in Florida, that might mean palm tree prints and beautiful accents pulled from the coast! You can also embrace nature through your own photography. Take some fun landscapes, then frame them and scatter them across your space for a uniquely personal touch.
Rich color schemes
In 2018, there's no need to be subtle! Embrace rich, daring hues on your walls and all around. Bold shades like wine-red or espresso brown aren't just for the fall and winter seasons anymore.
Metallic touches
Every year seems to embrace metallic touches in a different way. This year seems to be one for brass, the warm, reflective and often-neglected alloy that's sure to add a fresh spark to your space. Unlike gold, silver or stainless steel, brass is a bit more unexpected… and easy to incorporate into décor schemes cool or warm, lux or cozy and down-to-earth. You can add brass via kitchen hardware, photo frames, and other easy touches.
What trend are you most excited to embrace in your home? Be sure to let us know below… and have a very happy New Year!