Fri, Oct 30, 2020 at 7:26PM
---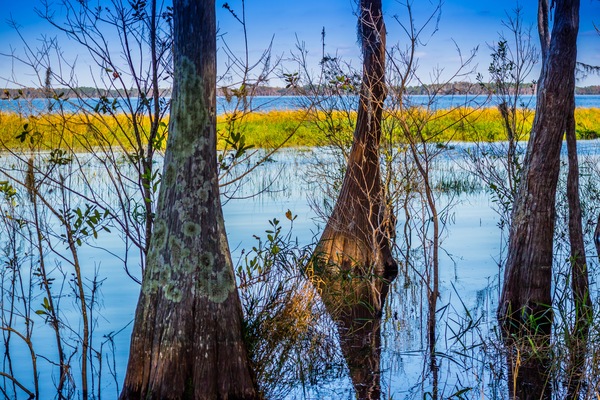 Here in Central Florida, crisp weather and clearer skies make fall an excellent time to plan a seasonal photoshoot! You don't need to travel to capture some seriously beautiful vistas that abound in Lake County—just read on for a few planning tips and some of our favorite photo ops around town.
Snap during golden hour for warm, well-lit pictures
When it comes to planning the perfect fall photos, timing is everything! We recommend scheduling your photo excursion during golden hour, the hour after sunrise or before sunset, when the sun's position in the sky lends itself to warm, richly lit photographs.
Make self-timer your best friend
You don't need a professional camera to snap some high-quality, memorable moments! Get to know your smartphone's self-timer feature, which you can use to get the whole family in the photo with ease, no "selfie arm" needed.
Bring fun fall props
Bring along a pumpkin or two to make your fall photoshoot even more dynamic! And even if the weather isn't too chilly just yet, feel free to throw on a cozy cap or scarf to play into the seasonal theme. (Of course, for many of us, our best "prop" is our furry best friend! Many dog-friendly parks abound in Lake County, so these are great options for capturing the whole family, four-legged members included.)
Our favorite places to photograph…
Wondering where to take your fall photos? Here are some scenic local spots to consider! (One caveat: This doesn't even come close to an exhaustive list of all the beautiful photo ops in Lake County! The picture-perfect backdrops are countless, and you might even stumble upon a new one when you least expect it.)
Mount Dora Lighthouse: Its iconic stripes and position overlooking Lake Dora make this a must-do spot on your photo adventure!
Downtown Mount Dora: While you're in town, be sure to snap some candid shots with Downtown Mount Dora as your backdrop. There are few places in the Sunshine State that blend Old Florida charm and classic Main Street façades with modern fun as easily as Mount Dora.
Lake Louisa State Park: Take pictures overlooking Lake Louisa (you can easily do so from the comfort of a nature trail), then hop aboard a kayak or your bike for a day of exploring!
Lake Griffin State Park: Another great destination for nature lovers, Lake Griffin State Park is home to one of Florida's largest live oak trees, The Mammoth Live Oak, which is estimated to be 300-500 years old.
Your very own backyard! From water views, to spacious green expanses, Lake County's backyards blend the best of nature and at-home comfort—perfect for a cozy fall photoshoot.
When you call Lake County "home," a beautiful backdrop surrounds you on every adventure and everyday excursion, too—from family picnics to downtown strolls, nature walks and more! If you're considering a move here, we are here to help. Call the Loretta Maimone team to find your slice of Central Florida paradise today.