Tue, Oct 03, 2017 at 12:18PM
---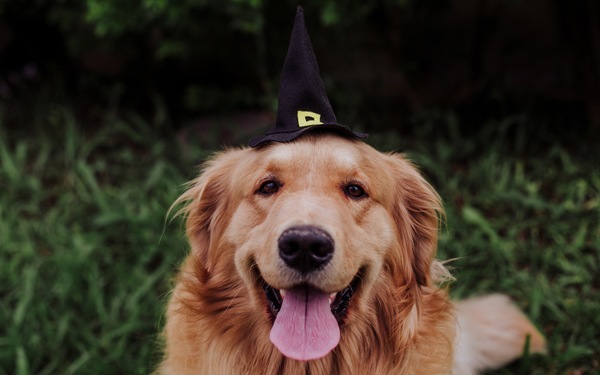 With Halloween right around the corner, you're probably scrambling to find that perfect costume or design a chilling haunted house. But don't forget about your four-legged friend!
Looking for ways to let Fido in on the Halloween fun? We've got you covered. Take a look below for a few easy ways to make this holiday a pup-friendly one!
Opt for fun, simple costumes
Dogs don't celebrate Halloween, so they might not quite understand the tradition of donning a costume for one night (and if you're a dog owner, you've probably seen your pet try to squirm or shimmy their way out of outfits before!).
Still, there are simpler ways to help your pup dress the part this Halloween. Opt for fun but lightweight DIY costumes, like the classic sheet-turned-ghost look or even adding a cape or an old toddler's hat!
Keep the chocolate away…
Dogs, of course, can't eat chocolate… which just so happens to be present in large quantities on Halloween. You can help keep Fido safe by storing your chocolate loot in high, tucked away places like your pantry shelf.
… but sub in your own pup-friendly treats
While your dog might not know it's Halloween, he will still love an extra treat or two made just for him! You can prepare Fido-friendly treats like oatmeal drops or sweet potato strips he's sure to gobble right up.
Bring Fido out for the fun
When the night falls, and the trick-or-treaters come to your door, some dogs may get a little antsy at the constant ringing of the doorbell. Why not let him release some stress by bringing him out for the fun? If he loves people, your dog will enjoy taking a walk through the neighborhood and watching the playfully-dressed trick-or-treaters stroll by. If you're staying home for the evening, you can have Fido by your side as you hand out candy and greet the night's ghouls, goblins, superheroes, and other costumed characters.
Trick or treat? With these easy tips for your pup, this holiday will definitely be the latter!