Wed, Apr 04, 2018 at 11:45AM
---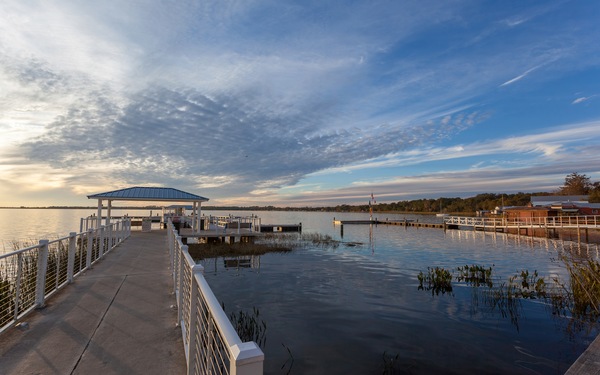 There's a lot to love about Mount Dora—its charming small-town atmosphere, cultural gems and abundance of arts, crafts and artisanal bites to enjoy throughout the year.
But as it turns out, on-land opportunities are just half the fun in our little lakeside paradise!
Read on to learn more about the aquatic gem of Lake Dora…as well as a few more ways to have fun on the water.
A classic tradition
This year was the 65th anniversary of a tradition long-loved by local sailors: the Annual Sailboat Regatta. As the state's oldest sailing regatta, it's an opportunity for sailors of every sort (Catalinas, Mutineers and more) to partake in the classic pastime of enjoying the water, sun and sporting fun… and, maybe, sail away with a trophy when all is said and done!
The regatta fun was this past Saturday at Simpson Cove—but, as you'll find out, it is not the only on-the-water opportunity to enjoy on a warm spring day…
Finding a home on the lake
Lake Dora is a haven for boaters and water enthusiasts of all kinds. You already know it's a top spot for the seaplane crowd—Mount Dora's next-door neighbor, Tavares, is "America's Seaplane City," after all, and you can enjoy seaplane tours if you're not a pilot yourself!
Lake Dora also serves as a worthwhile destination for water sport enthusiasts, wildlife explorers, or those who fall into the niche of select groups like antique boat aficionados (for whom you'll find a thriving community on and around Lake Dora).
And of course, even when you're not actually on the water, Lake Dora serves as a top spot to catch the sunset, enjoy a family picnic, or simply soak in the view. Lake County was named for its wealth of aquatic gems, after all, and Lake Dora (with its charming, historic shores) is among the most beloved of these.
Exploring the Dora Canal
The fun extends beyond the lake itself, too, and onto the Dora Canal. This waterway (which runs between lakes Dora and Eustis) is surrounded by a lush cover of cypress trees, Spanish moss and a swampy expanse chock full of creature finds: gators, water birds, snakes, turtles and more are all spotted here. You can explore by paddling your own canoe or kayak or hop onto a local pontoon boat tour—either way is sure to offer an up-close-and-personal look at some of Florida's most beautiful landscapes.
Shorts, sunscreen, boat shoes—check! Around Lake Dora, aquatic fun is fair game all year long. We hope that today's blog helps you find new ways to enjoy this local landmark.